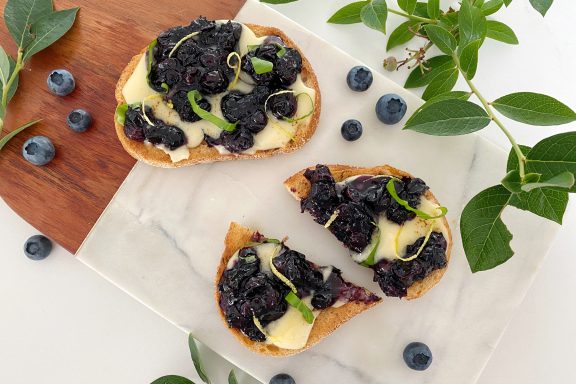 Servings: 4
Prep Time: 5 minutes | Cook Time: 20 minutes | Total Time: 25 minutes
Ingredients:
For the Blueberry Sauce:
1 pint blueberries, washed
3 tablespoons white sugar
3 tablespoons water
For the Toast:
4 slices Portofino Bakery Peasant Loaf
1 wheel Comox Brie
1 tablespoon lemon zest
1 tablespoon basil, sliced
Directions:
To Make the Blueberry Sauce:
Place the blueberries, sugar and water into a small pot. Mix to combine. Bring to a boil over medium-high heat. Once boiling, reduce the heat to medium and simmer, uncovered for 20 minutes, or until thickened. Stir the blueberry sauce occasionally to avoid burning.
Once cooked, remove from the heat and let cool while you prepare the toast.
To Assemble the Toasts:
Preheat the oven to broil. Place the bread on a parchment-lined baking sheet and toast the bread under the broiler until each side is golden brown. Set aside.
Use a sharp knife to remove the top rind of the brie. Use a spoon to scoop out the interior of the brie and spread 1 tablespoon of the brie into each toast.
Place the brie-covered toast back onto the parchment-lined baking tray and broil for 2 minutes, or until the brie is melted and slightly golden.
Remove the toasts from the oven and top with 2 tablespoons of blueberry sauce and a sprinkling of lemon zest and basil. Serve immediately and enjoy!