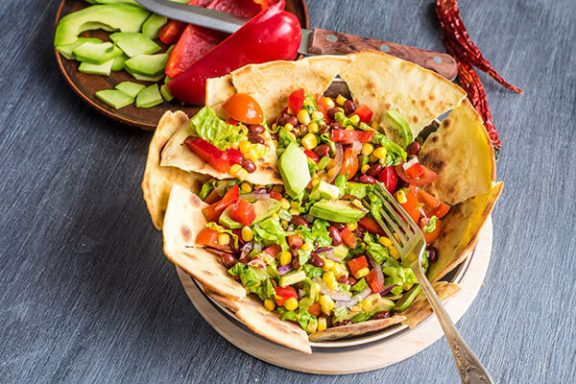 Total 30 Min
Prep 20 Min
Cook 10Min
Serves 4
Ingredients
1 lb lean or extra lean local ground beef
1 medium red onion, diced
1/2 cup celery, diced
1/2 cup red peppers, chopped
35 g of Red Barn Marked taco seasoning
1 19 oz can red kidney bean, drained and rinsed
1 19 oz can black beans, drained and rinsed
1 1/2 cups Catalina or Russian salad dressing
1 head of iceberg lettuce, torn into bites size pieces
2 medium hot house tomatoes, diced
1 bunch green onion, chopped
3/4 cup tortilla chips, crushed
Directions
Brown ground beef and add onions and celery. Drain off grease and stir in taco mix, season to taste.
Let cool.
Mix the beans and dressing into the cooled beef mixture. In a large bowl, layer the lettuce then the beef mixture. Do this twice using up both. Sprinkle peppers on top. Add the tomatoes and then the green onion. Finally, top with crushed taco chips and decorate the edge of the bowl with full taco chips.
Tips
For a different take, use individual taco bowls. Layer the salad in the bowls just before serving.