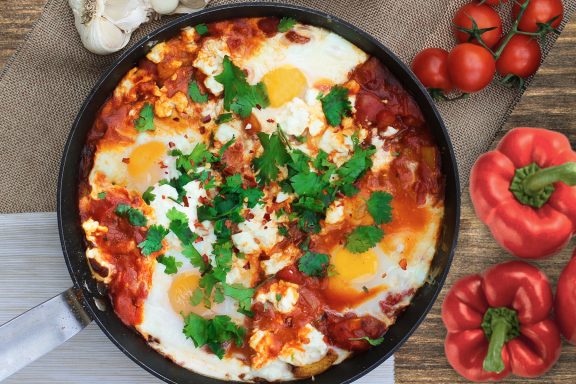 Prep time: 15 Minutes
Cook Time: 40 Minutes
Total Time: 1 Hour
Serves: 3
Ingredients:
1 tbsp Gallo Extra Virgin Olive Oil
1 white onion, sliced
1 red bell pepper, sliced
3 cloves garlic, minced
1 can of San Remo Diced Tomatoes (796 ML)
2 cups of Yams, diced
1 tsp ground cumin
1 tsp paprika
1 tsp coriander
6 Farmer Ben's Eggs
Cilantro
Salt & Pepper to taste
Cilantro, garnish
6 pcs of toasted Portofino 5 Grain West Coast Bread, served on the side
Directions:
Heat olive oil In a medium cast iron skillet over medium heat. Add onions and pepper and cook for about 5-8 minutes. Add garlic and cook for another minute.

Add the diced yams and cook for about 8 minutes. Pour the diced tomatoes and add cumin, paprika, coriander and salt & pepper. Stir.
Bring to a boil and reduce heat. Simmer for about 10-15 minutes or until the mixture thickens like a stew.
Create 6 small nests in the stew by in inserting a spoon into the mixture and making a circle motion. Gently crack the Farmer Ben's Eggs into the nest. Season eggs with salt & pepper. Cover skillet and cook for about 10 minutes.
Garnish with fresh cilantro and serve with a toasted Portofino 5 Grain West Coast Bread.