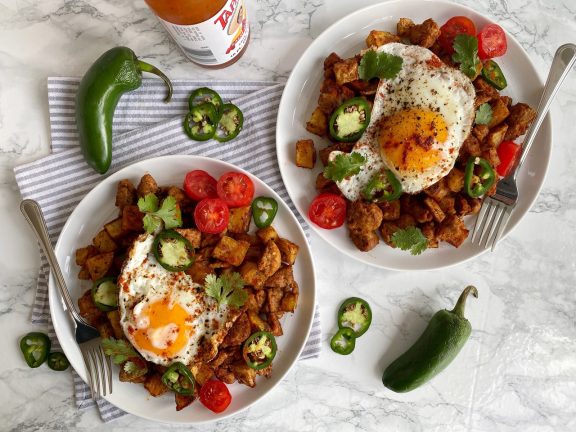 Serves: 4
Prep Time: 15 minutes | Cook Time: 40 minutes | Total Time: 55 minutes
Ingredients:
4 large Yukon gold potatoes, unpeeled, cut into 1-cm cubes
3 tablespoons avocado oil
1 ½ teaspoons sea salt
1 teaspoon ground black pepper
5 Red Barn's Own Turkey Chorizo sausages
1 tablespoon + 1 teaspoon sweet paprika
1 teaspoon cayenne pepper
1 teaspoon garlic powder
½ teaspoon smoked paprika
¼ cup water
4 eggs
1 jalapeño pepper, sliced
¼ cup cilantro, for garnish
Directions:
Preheat the oven to 425 degrees F. Line a baking tray with parchment paper and set aside.
Place the cubed potatoes onto the baking tray. Add 2 tablespoons of avocado oil to the potatoes along with the salt and black pepper. Toss to fully coat the potatoes in the oil and seasoning, then lay the potatoes out into a single layer on the baking tray, ensuring that they do not touch. Bake the potatoes for 40 minutes, tossing halfway through cooking.
While the potatoes are baking, prepare the chorizo. Heat a large frying pan over medium-high heat. Once hot, add 1 tablespoon of avocado oil to the pan.
Remove the casings from the chorizo sausage and discard.
Add the chorizo into the pan, breaking up the chorizo into small pieces. Add the sweet paprika, cayenne pepper, garlic powder and smoked paprika to the chorizo as it cooks, tossing to coat all the chorizo in the spices. Fry for 2-3 minutes to toast the spices, then add in the water. Cook, uncovered, for another 4-5 minutes, or until the chorizo is a light golden brown and fully cooked. Once cooked, remove from the heat, and set aside.
Once the potatoes are golden brown and tender, remove them from the oven and add them into the frying pan with the chorizo. Toss everything to combine.
Divide the hash evenly on four plates. Top each plate with a fried egg, sliced jalapeño pepper, and cilantro for garnish. Serve immediately and enjoy!