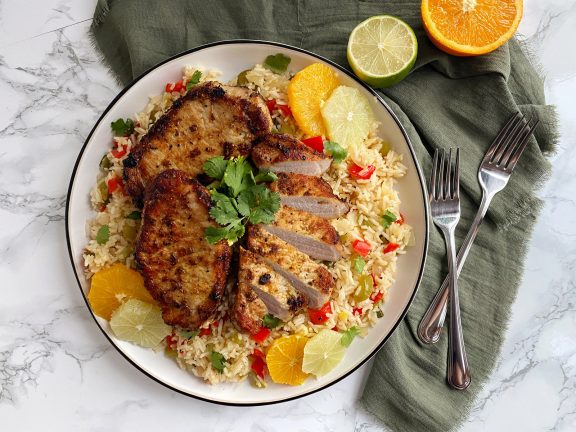 Servings: 4
Prep Time: 20 minutes | Cook Time: 30 minutes | Marinade Time: 1 hour | Total Time: 1 hour 50 minutes
INGREDIENTS:
For the Mojo Marinated Pork Chops:
4 boneless pork chops, 2-cm thick, fat trimmed
1 tablespoon orange zest
2/3 cup orange juice
1 tablespoon lime zest
¼ cup lime juice
6 cloves garlic, finely chopped
1 jalapeno pepper, finely chopped
½ cup fresh cilantro leaves, removed from stems
1 teaspoon ground cumin
1 teaspoon sea salt
1 teaspoon ground black pepper
¼ cup olive oil
1 tablespoon avocado oil
For the Rice:
2 tablespoons olive oil
1 small yellow onion, cut into 1-cm pieces
1 red bell pepper, cut into 1-cm pieces
1 green bell pepper, cut into 1-cm pieces
1 jalapeno pepper, cut into 1-cm pieces
4 garlic cloves, finely chopped
2 teaspoons dried oregano
½ teaspoon salt
½ teaspoon ground black pepper
1 cup white rice
2 cups chicken broth
DIRECTIONS:
Begin by marinating the pork chops. Add the pork chops to a large bowl long with all the other marinade ingredients (except the avocado oil). Toss everything to combine and place in the refrigerator for 1 hour.
To make the Skillet Rice, heat a large frying pan over medium-high heat. Once hot, add the olive oil, yellow onion, red pepper, green pepper and jalapeno to the pan. Sauté for 3-4 minutes or until the onion has become translucent and the peppers are starting to soften.
Add the garlic to the frying pan with the salt and pepper and cook for 30 seconds before adding in the rice.
Toast the rice in the pan for 3-4 minutes, stirring often, until it becomes translucent and smells slightly toasted. Add the chicken broth to the pan and then cover the pan with a lid. Reduce the heat to low and cook for 20 minutes.
While the rice is cooking, cook the pork. Heat a large frying pan over medium-high heat. Once hot, add the avocado oil to the pan followed by the pork. Try to scrape off the garlic, cilantro leaves, and citrus zest as this will burn in the pan. Fry for 5 minutes per side, or until golden brown on both sides and cooked through.
Once the rice has absorbed all the chicken broth and is tender, remove the lid and use a fork to fluff up the rice.
Place the rice on a serving platter and top with the pork chops. Garnish with some fresh cilantro leaves. Serve immediately and enjoy!
RECIPE NOTES:
Do not marinade the pork for longer than 1 hour as the citrus juices will make the meat very tough. You can marinate the pork chops overnight with all the ingredients apart from the orange juice and lime juice and then add the juices in 1 hour before you plan to cook it.
For extra protein, add black beans to the Skillet Rice. Add the beans when you add the chicken broth and mix through before covering the skillet with the lid.