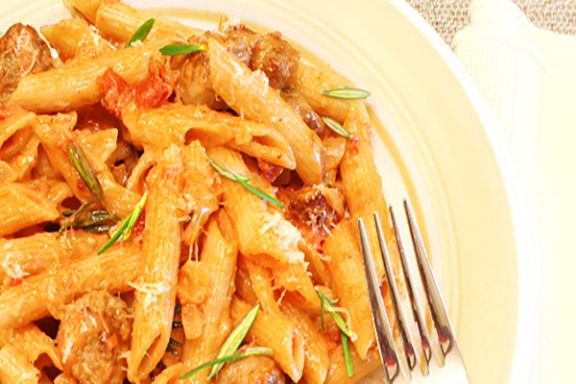 Prep: 20 minutes
Cook: 30 minutes
Serves: 6
INGREDIENTS
1 small onion, diced
A drizzle of olive oil
4 Links Red Barn's Own Mild Italian Pork Sausage, sliced into 1/4″ thick coins
2 tbsp fresh rosemary
2 bay leaves
1 tsp crushed red pepper flakes
1 can diced tomatoes
4 cups Penne pasta
1/2 cup heavy cream
1/2 cup Red Barn's Own Smoked Gouda cheese, shredded
DIRECTIONS
Cook pasta according to the package directions.
Meanwhile, heat the remaining olive oil in a skillet over medium-high heat. Add the sausage and cook, turning occasionally, until nearly-browned, about 6-8 minutes. Add the onion and sauté in olive oil until soft. Add rosemary, bay leaves, and crushed red pepper. Add the tomatoes.
Cook until bubbly and hot.
Add the cooked pasta, cream and cheese to the tomatoes. Toss until well combined.
Serve with additional cheese if desired.