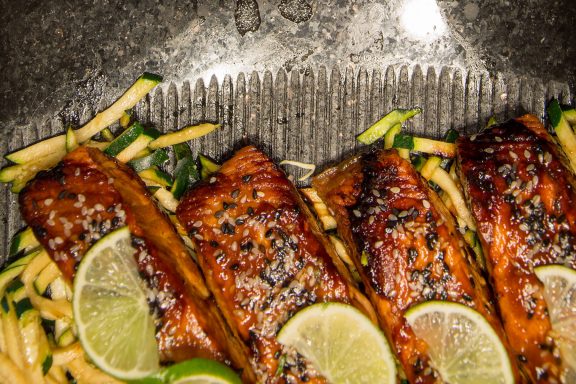 Prep Time: 30 Minutes
Cook Time: 20 Minutes
Total Time: 50 Minutes
Serves: 4
Ingredients
1 teaspoon ground ginger
1 teaspoon garlic powder
1/4 teaspoon pepper
1⁄3 cup reduced sodium soy sauce
1⁄3 cup orange juice
1⁄4cup Van Isle Apiaries Honey
1 1⁄2 lbs Wild West Coast Sockeye Salmon Fillets
Instructions:
Mix all liquid and powder ingredients in a large bowl. Put marinade in a large Ziploc.
Place Sockeye Salmon Fillets in the Ziploc and seal tightly. Turn bag gently to distribute marinade then refrigerate for 20-30 minutes.
Preheat grill to medium heat and lightly grease the grill rack.
Remove the Salmon from the marinade, and set aside remaining marinade.
Place Salmon in grill for about 12-15 minutes per inch of thickness or until fish flakes easily with a fork.
Brush Salmon with the reserved marinade occasionally up until the last 5 minutes of cooking time
Serve
Tip:
Sprinkle sesame seeds or chopped green onions and serve it with your favourite grilled veggies!