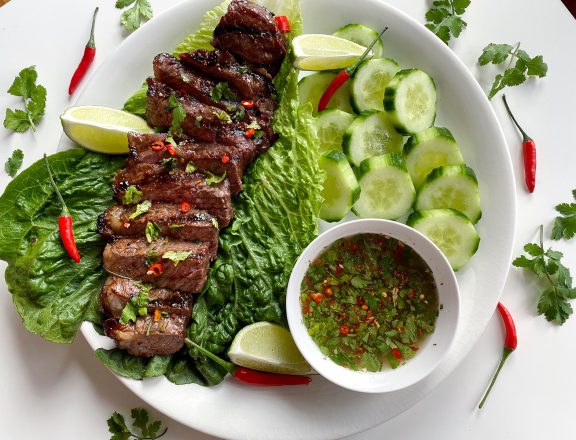 Serves: 4
Prep Time: 20 minutes | Cook Time: 15 minutes | Total Time: 35 minutes
Ingredients:
For the Steak:
2 Red Barn Market's Striploin steaks, 2 centimeters thick
¼ cup oyster sauce
2 tablespoons avocado oil
2 tablespoons light soy sauce
2 tablespoons brown sugar
2 tablespoons water
1 teaspoon ground black pepper
For the Jaew Sauce:
2 teaspoons jasmine rice
½ cup lime juice
1 ½ tablespoons fish sauce
2 tablespoons cilantro, finely chopped
1 tablespoon chili flakes
1 Thai bird eye chili, finely chopped (optional)
2 teaspoons granulated white sugar
Directions:
Add the oyster sauce, avocado oil, soy sauce, brown sugar, water, and black pepper to a medium sized bowl. Use a whisk to mix everything to combine. Add the steaks to the bowl and coat them in the sauce. Set aside at room temperature for at least 15 minutes to marinade.
While the steaks are marinating, make the Jaew sauce. Add the rice to a small pan over medium-high heat. Toast the rice for 3-4 minutes, stirring often, until the rice is light brown on all sides. Once toasted, add the rice to a mortar and grind it into a fine powder using the pestle. You can also do this in a food processor as well.
Add the ground rice into a small bowl, followed by the lime juice, fish sauce, cilantro, chili flakes, Thai birds eye chili, and sugar. Mix everything to combine and set aside.
To cook the steaks, heat a grill to 400 degrees F. Add the steaks to the grill and cook for 5-6 minutes per side (for medium temperature). Once cooked, remove the steaks from the grill and let them rest for 10 minutes.
Slice the steak into strips and top with the Jaew sauce. Serve with sliced cucumber, lettuce, and steamed rice for a full meal. Enjoy!
Recipe Notes:
You can also cook the steak in a frying pan. To do this, preheat a pan over medium-high heat and add 1 teaspoon of avocado oil. Fry the steaks for 5-6 minutes per side (for medium temperature). Once cooked, let the steaks rest for 10 minutes before slicing.
If you would like the steak cooked rare, cook for 4 minutes per side and let rest for 10 minutes before serving.
You can marinade the steaks overnight in the refrigerator for a more flavourful steak. Ensure that you remove the steaks from the refrigerator at least 30 minutes prior to cooking so that the steak cooks evenly.
Recipe by: SEASON & SERVE (A FOOD BLOG FOR ALL SEASONS)
Follow Season & Serve on INSTAGRAM