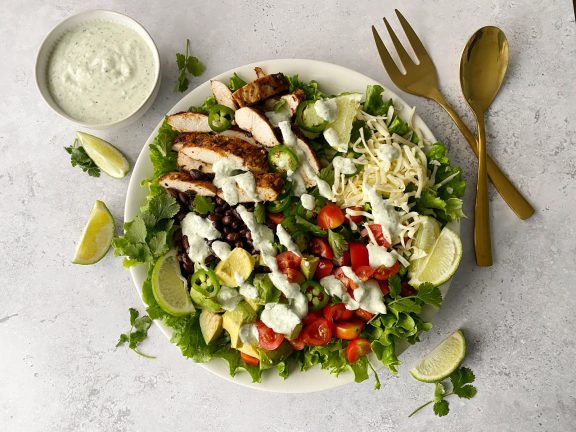 Serves: 4-6
Prep Time: 30 minutes | Cook Time: 15 minutes | Marinating Time: 6 hours | Total Time: 6 hours 45 minutes
Ingredients:
For the Cilantro-Lime Chicken Marinade:
2 boneless, skinless chicken breasts, sliced in half through center (yields 4 thin chicken breasts)
3 cloves garlic, finely chopped
1/3 cup cilantro stems, finely chopped
¼ cup jalapeno peppers, finely chopped
2 tablespoons lime zest, finely grated
2 tablespoons olive oil
2 teaspoons ground chili powder
½ teaspoon ground black pepper
¼ teaspoon sea salt
For the Jalapeno Ranch Dressing:
½ cup sour cream (full fat) OR Greek yogurt (a healthier option)
1 clove garlic
¼ cup cilantro leaves
3 tablespoons jalapeno pepper (approximately 1/2 pepper)
1 tablespoon lime juice
1 tablespoon water
For the Salad:
1 head green leaf lettuce, cleaned and chopped into 1-inch pieces
2 cups grape tomatoes, quartered
1 cup black beans, rinsed and drained
1 cup Red Barn Markets Jalapeno Monterey Jack cheese, shredded
1 avocado, cut into 2-cm cubes
1 medium jalapeno pepper, thinly sliced
¼ cup cilantro leaves, for garnish
Directions:
Begin by marinating the Cilantro-Lime Chicken. Add the chicken breasts to a large bowl along with the rest of the marinade ingredients. Mix to combine, cover, and place in the refrigerator to marinate for at least 6 hours, or overnight.
Prepare the Jalapeno Ranch Dressing by combining all the dressing ingredients in a food processor. Puree until you have a smooth, pourable dressing. Transfer the dressing to a bowl and place in the refrigerator until you are ready to serve the salad.
After 6 hours, remove the chicken from the refrigerator. Heat a large frying pan over medium-high heat. Once hot, add 2 tablespoons of olive oil to the pan, followed by the chicken breasts. Cook the chicken breasts for 3-4 minutes per side, or until golden brown. Then reduce the heat to medium and cook the chicken for another 2 minutes per side, or until the chicken is fully cooked. Transfer the chicken to a cutting board and let rest for 10 minutes.
While the chicken is resting, arrange the salad. Place the lettuce in a large bowl and add the chopped tomatoes, black beans, shredded cheese, avocado, jalapeno pepper, and cilantro on top.
Slice the chicken into 1-cm thick slices and place on top of the salad followed by the Jalapeno Ranch Dressing. Toss to combine and serve immediately. Enjoy!
Notes:
You can marinate the chicken for up to 24 hours to ensure the chicken is fully marinated and full of flavour.
Make a healthy substitution by swapping sour cream for plain Greek yogurt. This has less fat and more protein.
The Jalapeno Ranch Dressing will store in the refrigerator for up to 3 days.