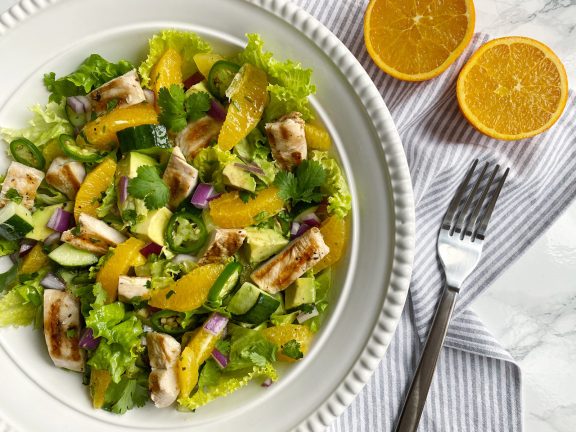 Servings: 2
Prep Time: 15 minutes | Cook Time: 15 minutes | Total Time: 30 minutes
INGREDIENTS:
For the Grilled Chicken:
2 boneless, skinless chicken breasts, sliced in half to become thinner (4 thin breasts total)
1 teaspoon ground cumin
2 cloves garlic, finely chopped
1 teaspoon sea salt
1 teaspoon ground black pepper
2 tablespoons avocado oil
For the Salad:
1 small head green leaf lettuce, washed and cut into 1-inch pieces
2 avocados, cubed
2 navel oranges, cut into segments/supremed (see Recipe Notes)
½ English cucumber, cubed
1 jalapeno, thinly sliced
1/3 cup red onion, finely chopped
¼ cup loosely packed fresh cilantro leaves
For the Citrus Dressing:
¼ cup freshly squeezed orange juice
2 tablespoons freshly squeezed lime juice
1 tablespoon fresh cilantro, finely chopped
1 tablespoon honey
¼ teaspoon ground cumin
½ teaspoon sea salt
½ teaspoon ground black pepper
¼ cup olive oil
DIRECTIONS:
Begin by marinating the chicken. Add the chicken breasts to a bowl along with the cumin, garlic, salt, pepper and 1 tablespoon of avocado oil. Toss everything to combine and set aside to marinade.
Prepare the salad by layering the lettuce on the bottom of a large salad bowl, and top with the avocados, orange supremes, cucumber, jalapeno and red onion.
Next make the dressing by combining the orange juice, lime juice, chopped cilantro, honey, cumin, salt and pepper in a small bowl. Drizzle in the olive oil as you whisk the dressing ingredients to combine and set aside.
Heat a cast iron grill (or large frying pan) over high heat. Once hot, add the remaining 1 tablespoon of avocado oil to the grill followed by the chicken breasts. Reduce the heat to medium-high and grill for 4-5 minutes per side, or until golden brown and fully cooked.
Place the chicken on a cutting board and let rest for 5 minutes to cool slightly and to keep the chicken juicy. Once rested, slice the chicken breasts into 1 to 2-cm thick strips and arrange on top of the salad.
Top the salad with the cilantro leaves and then drizzle the citrus vinaigrette over the entire salad. Serve immediately.
RECIPE NOTES:
Orange supremes (pronounced su-PREMS) are the best way to enjoy the fruit of an orange without eating the membranes or white pith. To prepare the supremes, use a sharp paring knife to remove the top and bottom of the orange, then cut the rind off, removing the skin and white membrane. Next, hold the orange over a bowl and slice between the orange membranes to cut out the fruit, letting the orange supremes fall into the bowl below. Repeat, rotating the orange, until all the fruit is removed. Squeeze out the membrane that is left over into the bowl as you can use this orange juice for the Citrus Dressing! You can do this with oranges or any other citrus fruit you like!