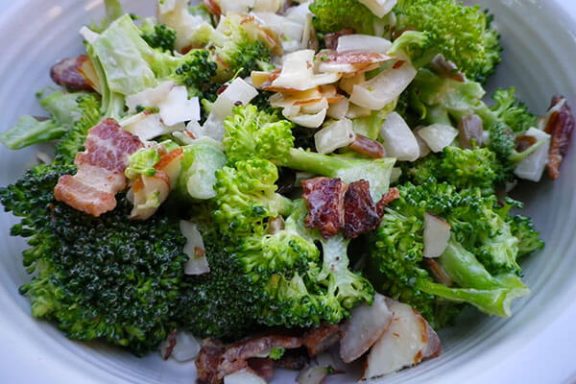 Prep: 20 minutes
Serves: 4
Ingredients
4 broccoli crown
1/2 cup pecans, halved
1/4 cup red onion, chopped
8 slices Red Barn's Own local Double Smoked Bacon
1/2 cup raisins
Dressing
2 tbsp white vinegar
1/2 cup sugar (or less)
1 cup mayonnaise
1 tbsp dijon mustard
1/4 almonds, sliced
Directions
Chop up broccoli into bite size pieces. Halve pecans, cut up onions and mix with raisins.
Cook bacon and set aside to cool. Then mix with broccoli.
In a bowl, mix together white vinegar, sugar, mayonnaise, and dijon mustard.
Toss salad with dressing just before serving.
Garnish with sliced almonds.
Notes
Try using cranberries instead of raisins.
To have a thicker dressing, let it chill in fridge for an hour before mixing with the salad and serving.