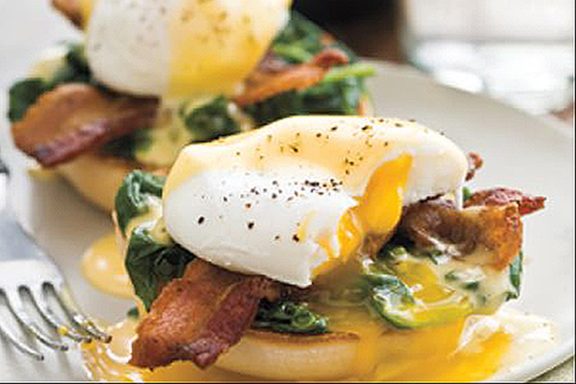 Serves: 4
Prep Time: 15 minutes | Cook Time: 12 minutes | Total Time: 27 minutes
Ingredients:
4 large egg yolks
1 Tbsp. fresh lemon juice
Kosher salt and ground white pepper
1 cup plus 1 Tbsp. unsalted butter
1 1/4 lbs. Eat Island Grown Mixed Greens
3 Tbsp. finely chopped shallots
8 slices Red Barn Double Smoked Bacon, halved crosswise
4 English muffins, split
8 poached eggs
Directions:
To make the hollandaise, in a blender, combine the egg yolks, 1 Tbs. water, the lemon juice, 1/4 tsp. salt and 1/8 tsp. white pepper. In a small saucepan, melt the 1 cup butter over medium heat. With the blender running, slowly add the warm melted butter through the vent in the lid, processing until the sauce is thick and smooth. Taste and adjust the seasoning. If the sauce is too thick, add a bit more water to thin it. Transfer the sauce to a bowl, cover and set aside.

Stem the mixed greens, rinse well but do not dry, and coarsely chop. In a large saucepan, melt the remaining 1 Tbsp. butter over medium heat. Add the shallots and cook, stirring occasionally, until tender, about 2 minutes. Stir in the mixed greens, cover and cook until the greens are tender, about 3 minutes. Season to taste with salt and white pepper. Drain the mixed greens mixture in a sieve, pressing gently to remove excess liquid. Return to the pan, cover and set aside.

In a large frying pan, fry the bacon over medium heat, turning once, until browned, about 6 minutes. Transfer to paper towels to drain. Meanwhile, preheat a broiler. Place the muffins, cut sides up, on a baking sheet. Broil until toasted, about 1 minute. Poach the eggs and keep them warm in hot water as directed.

To serve, place 2 toasted muffin halves, cut sides up, on each plate. Top the 2 halves with one-fourth of the mixed greens and 4 pieces of bacon. One at a time, using a slotted spoon, remove the poached eggs from the hot water, resting the bottom of the spoon briefly on a clean kitchen towel to blot excess moisture, and perch 2 eggs on each serving of bacon. Spoon about 3 Tbs. of the hollandaise over each pair of eggs. Serve at once, passing the remaining hollandaise on the side.