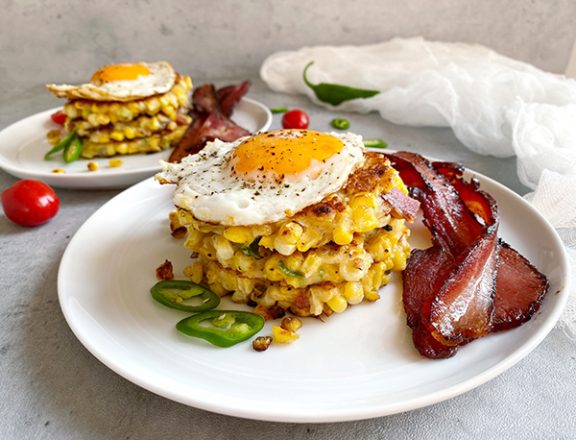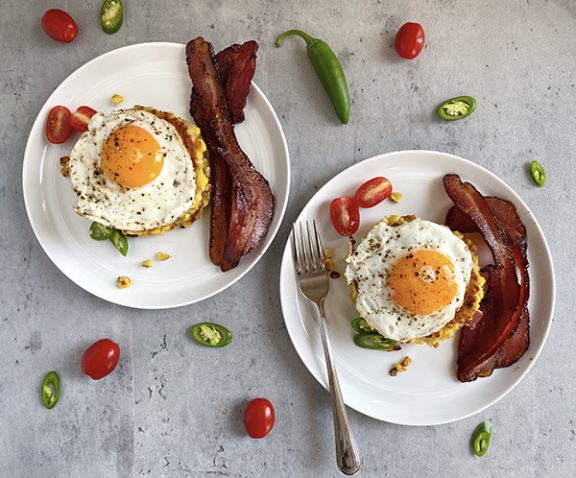 Serves: 4 (12 fritters)
Prep Time: 20 minutes | Cook Time: 50 minutes | Total Time:  1 hour 10 minutes
 Ingredients:
3 cups (500 g) fresh corn kernels (from 4 ears fresh corn)
Water, for boiling
12 strips Red Barn Double Smoked Bacon
¼ cup shallot, finely chopped
1 jalapeno, finely chopped
1 scallion, finely chopped
1/2 teaspoon salt
1/2 teaspoon ground black pepper
2 teaspoons granulated white sugar
½ cup all-purpose flour
¾ cup 2% milk
6 large eggs
3 tablespoons avocado oil, for frying
Directions:
Begin by cooking the corn. Bring a large pot of water to a boil and add in the corn. Cook for 5-6 minutes, or until the corn kernels have darkened in colour and are fully cooked. Remove the corn from the pot and let cool completely. Once cooled, use a sharp knife to cut the kernels off the cob and place them into a large mixing bowl.
Heat a large frying pan over medium-high heat. Once hot, add the bacon strips and cook until crisp on both sides, about 6 minutes. Let the bacon cool and cut 4 strips of bacon into 1-centimeter sized pieces. Place the cut bacon in the mixing bowl with the corn. Reserve the remaining 8 pieces of bacon for serving.
Remove all but 1 tablespoon of bacon fat from the pan. Heat the pan over medium heat and fry the shallot and jalapeno in the bacon fat until soft, about 3-4 minutes. Remove from the pan and place into the bowl with the bacon.
Add the scallion, salt, pepper, sugar, and flour to the mixing bowl. Mix everything together so that it is coated in flour.
In a separate bowl, beat the milk and 2 eggs until combined. Pour the milk mixture into the corn mixture and stir until just combined. Do not overmix.
To Cook the Fritters:
Heat a large non-stick frying pan over medium-high heat. Add 1 tablespoon of avocado oil to the pan and then scoop in 1/4 cup of the corn mixture per fritter, making sure that they do not touch.
Reduce the heat to medium and cook the fritters from 3-4 minutes per side, flipping once the first side has become golden brown. Once the fritters are cooked on both sides, remove the fritters from the pan and continue the process with the rest of the corn mixture, adding extra avocado oil as needed.
Once all the fritters are cooked, fry the remaining 4 eggs in the pan so that they are sunny side up.
To serve, stack 3 fritters on top of each other and top with a fried egg. Serve with 2 strips of bacon and a few jalapeno slices for garnish. Serve immediately and enjoy!
Recipe Notes:
For more flavour, can fry the corn fritters in the bacon fat. Be sure to use about 1 tablespoon per batch.
Recipe by: SEASON & SERVE (A FOOD BLOG FOR ALL SEASONS)
Follow Season & Serve on INSTAGRAM