November 12, 2023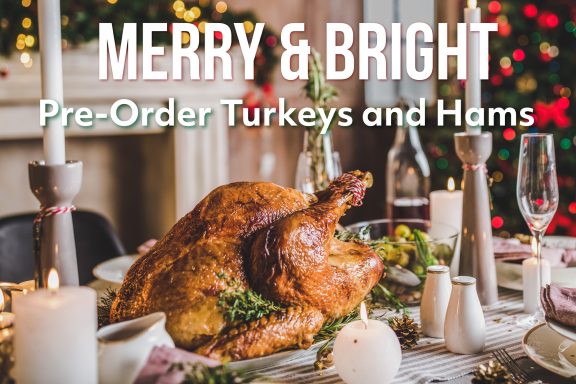 It's the most wonderful time of the year! And the most wonderful meal of the year! Pre-order your local Courtenay BC raised turkeys from Victorian Acres or Langley BC raised JD farms turkeys.
Looking for something a bit smaller? Try out our customized handcrafted Turkey Roasts. Choose your style of meat and stuffing. Made by our in-house butchers. It doesnt get fresher than that!
If turkey's not your thing, we are also offering mouth watering local handcrafted Red Barn's own smoked hams (boneless and bon-in options available) made right here in our Saanich Smokehouse.
(PLEASE NOTE: Turkey sizes are not guaranteed. We will do our best to match a turkey to your request)
Pick Up Days:
ALL turkeys, roasts and hams will be available for pick up December 22-24 at your selected location.
For any modifications or cancellations please call your selected location.
To Order:
To reserve your fresh holiday Turkey or Turkey Roast,  CLICK HERE!
To order your Christmas Hams  CLICK HERE!
Or pop into one of our stores where we will be happy to assist you.
---
Victoria Acres
Local Vancouver Island Raised Turkeys
Level up your holiday dinner this year with a locally raised turkey from Victorian Acres. These gorgeous birds are fed with non-GMO veggies, have zero hormones or antibiotics and are free run. Perfect for the large family gathering, serving up to 10 people with a 14-18lb bird. Feel good about the meat on your table with Victorian Acres.
Free run
Non GMO feed
Veggie fed
No hormones or antibiotics
Member of G.A.P. (Animal Welfare)
Larger Sizes (15-20lb)
Family Farm
Comox Valley

Price
$7.99LB/$17.61KG
---
JD Farms
BC Raised Turkeys
Craving turkey this holiday but don't have a large group? JD Farms is the perfect mix of local, tasty and a smaller size. Don't worry you'll still have enough leftovers for your "moist maker" turkey sandwich. Serving up BC raised birds with special care and diet bringing about the highest quality and exceptional flavour. JD Farms is proudly part of the Global Animal Partnership (G.A.P) doing their part to change the way food is raised.
BC Raised
Non-GMO Grain Fed
No animal by-products
Antibiotic Free
Smaller Sizes (10-20lbs)
Stringent Certification Program – G.A.P.

Price:
$5.99LB/$13.21KG
Red Barn's Own fresh Turkey Roasts are boneless, easy to cook, and delicious! Made by our in house butchers and customized to your taste of white or dark meat, and choice of stuffing. These roasts are perfect for a smaller gathering, still giving you a taste of fresh, local and festive holiday memories.
Customize your roast:
White meat, dark meat, or both
With or without stuffing  (Classic or Cranberry Bread Stuffing)
Pick your size  (3-8LBS)
---
Ham
Red Barn Smokehouse Hams
Our Old Fashioned Hams are made in house in our own Smokehouse in Saanich, BC. This holiday season is all about supporting local. These hams are from a BC raised farm, and are then handcrafted to perfection with infused flavour from the Red Barn Smokehouse. Trust us, you don't want to miss out on this delicious ham!
Bone-In Hams are available for preorder as Quarters or Halves. Whole Hams will be available in store only.
Large quantities available

Price:
Bone In Hams – $4.99LB/$11.00KG
Boneless Hams – $6.99LB/$15.41KG