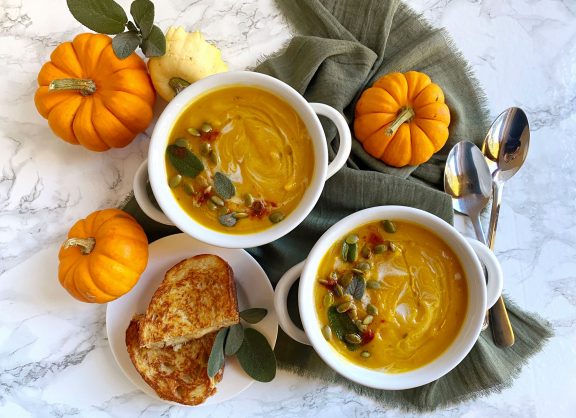 Serves: 8
Prep Time: 15 minutes | Cook Time: 1 hour 30 minutes. | Total Time: 1 hour 45 minutes
Ingredients:
For the Soup:
5 pounds pumpkin pie pumpkin, skin on, cut into 1-inch-thick wedges
2 teaspoons sea salt
1 tablespoon + 1 teaspoon ground black pepper
3 tablespoons olive oil
2 cloves garlic, finely chopped
6 cups vegetable stock
6 large sage leaves, roughly chopped, plus more for garnish
2/3 cup maple syrup
2 teaspoons cayenne pepper
½ cup coconut milk
Pumpkin seeds, for garnish
For the Grilled Cheese (Makes 2 sandwiches):
4 slices Portofino Sourdough bread
2/3 cup Red Barn Market Smoked Aged Cheddar, grated
2 tablespoons butter
Directions:
For the Soup:
Preheat the oven to 425 degrees F. Line a large baking sheet with parchment paper and set aside.
Arrange the pumpkin wedges onto the baking sheet and sprinkle with 1 teaspoon of sea salt, 1 teaspoon black pepper and 2 tablespoons of olive oil. Toss to coat all sides of the pumpkin with the salt, pepper and olive oil. Bake in the center of the oven for 1 hour, flipping the pumpkin wedges halfway through cooking,
Once the pumpkin is roasted, remove from the oven and let cool completely. Once cooled, remove the skin from the pumpkin wedges. The skin should just peel right off.
Next, add 1 tablespoon of olive oil to a large pot over medium-high heat. Once hot, add the garlic and fry for 30 seconds, or until fragrant.
Add in the peeled pumpkin followed by the vegetable stock, sage leaves, maple syrup and cayenne pepper. Bring the soup to a boil, then cover and simmer for 30 minutes.
Once the soup has cooked for 30 minutes, use an immersion blender (or high-speed blender) to puree the soup until it is smooth.
Stir in the coconut milk and served garnished with pumpkin seeds and a few sage leaves.
For the Grilled Cheese:
Heat a small frying pan over medium-high heat.
While the pan is warming up, add 1/2 tablespoon of butter to one side of each slice of bread. Spread it out with a butter knife.
Add 1/3 cup of grated cheese to the unbuttered side of the bread, and top with the other slice of bread so that the butter side is facing out.
Carefully place the grilled cheese in the pan and fry for 2-3 minutes per side, or until golden brown and the cheese is melted. Enjoy!
Notes:
If you are making the soup in a crockpot, add the roasted pumpkin and all the other ingredients to the crock pot. Cook on low heat for 4 hours before pureeing and serving.