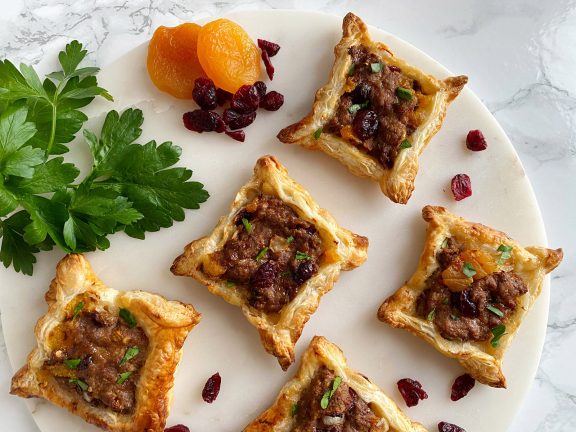 Serves: 18 tarts
Prep Time: 30 minutes | Cook Time: 15 minutes | Total Time: 45 minutes
Ingredients:
400 g ground turkey
½ cup yellow onion, finely grated
½ cup dried cranberries
½ cup dried apricots, cut into 1-cm cubes
1 teaspoon salt
1 teaspoon ground black pepper
1 teaspoon ground cinnamon
½ teaspoon ground nutmeg
½ teaspoon ground all spice
2 sheets puff pastry
½ cup flour, for rolling out puff pastry sheets
1 large egg, beaten
1 tablespoon water
¼ cup chopped parsley, for garnish
Directions:
Preheat the oven to 450 degrees F. Line two baking sheets with parchment paper and set aside.
Add the ground turkey, grated onion, cranberries, apricots, salt, pepper and spices to a large mixing bowl. Mix all the ingredients together until combined.
Sprinkle some flour on a clean work surface and use a rolling pin to roll out the puff pastry into a 12×12 inch square.
Use a 4-inch round cookie cutter to cut out 9 circles of puff pastry per sheet. This will give you 18 tarts.
Beat the egg and the 1 tablespoon of water together in a small bowl to create an egg wash.
Add 1 heaping tablespoon of the turkey mixture to the centre of each puff pastry round and press down so that the turkey mixture is 1 cm thick. Use a pastry brush to brush the egg wash on the edges of the puff pastry and pinch the sides together to seal.
Transfer the assembled tart to a parchment-lined baking sheet and continue the process for the rest of the tarts, making sure to space them at least 1 inch apart from each other.
Brush the edges of the tarts with the egg wash to create a golden finish then bake in the oven for 15 minutes, or until golden brown.
Transfer the warm tarts to a serving platter and garnish with some chopped parsley. Enjoy!