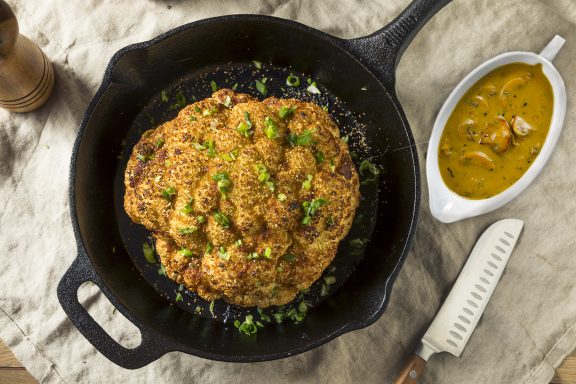 Prep Time: 15-20 Mins
Cook Time: 1 Hour 30 Mins
Total: 1 Hour 50 Mins
Serves: 3-4
Ingredients:
1 Extra Large Cauliflower head
5 tbsp. Melted butter
4 cloves garlic, skin on
4 fresh sage leaves
4 fresh thyme sprigs
4 fresh rosemary sprigs
1 tbsp green onions, chopped (optional)
Salt & Pepper to taste
Mushroom Gravy Ingredients:
4 tbsp butter
1/2 onion, chopped
4 oz cremini mushrooms, chopped
1 tsp sage, chopped
1 tsp rosemary, chopped
1 tsp thyme, chopped
3 tbsp all-purpose flour
2-4 c beef stock or veggie stock
Directions:
Preheat oven to 450C. Wash Cauliflower and put in large skillet. Rub 2 tablespoons of melted butter, season with salt and pepper. Add garlic cloves around cauliflower.
Bake for about 1 hour and 30 minutes, until cauliflower is tender and slightly charred. Brush with the remaining melted butter halfway through.
Check if cauliflower is ready. Sprinkle with chopped green onions (optional). Set aside to cool.
Directions (Mushroom Gravy):
In a medium saucepan over medium heat, melt butter. Add onions and cook for about 3-4 minutes. Stir in the chopped mushrooms, herbs and add salt & pepper to taste.
Keep stirring until mushrooms are sold and golden for about 4 minutes. Take roasted garlic cloves from the other skillet containing the cauliflower. Remove garlic skin and add to the mushroom mix. Break up cloves with spoon.
Stir in flour and cook for 1 minute then add 2 cups of beef/veggie broth and bring mixture to a boil.
Reduce heat to low and wait for about 4-6 minutes or until mixture is thickened to your desired consistency.
Serve gravy on the side of your roasted cauliflower.