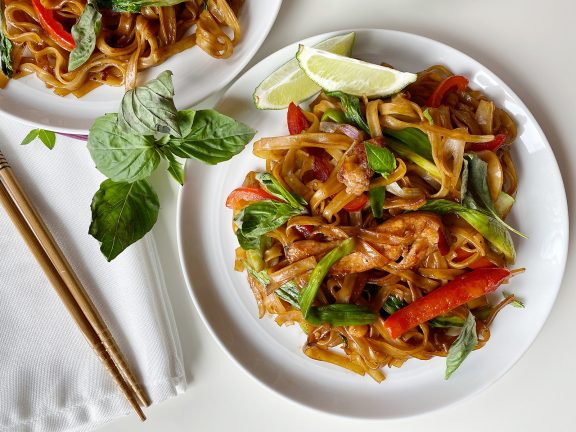 Serves: 4
Prep Time: 20 minutes | Cook Time: 15 minutes | Total Time: 35 minutes
Ingredients:
For the Chicken:
1 boneless, skinless chicken breast, thinly sliced
2 tablespoons light soy sauce
1 teaspoon baking soda
For the Stir Fry Sauce:
3 tablespoons oyster sauce
3 tablespoons brown sugar
3 tablespoons water
2 tablespoons light soy sauce
1 tablespoon dark soy sauce
1 tablespoon fish sauce
1 teaspoon ground black pepper
For the Stir Fry:
300 grams wide dried rice noodles
Water, for boiling
4 tablespoons vegetable oil
4 cloves garlic, finely chopped
1 teaspoon dried chili flakes
2 shallots, thinly sliced
1 red bell pepper, thinly sliced
1 Shanghai bok choy, end removed
3 scallions, cut into 2-inch pieces
½ cup Thai basil leaves, whole
Directions:
Add the sliced chicken breast to a medium sized bowl along with the baking soda and soy sauce. Mix everything together so that the chicken is fully coated. Set aside for 10 minutes to marinade.
Next, make the sauce for the stir-fry. Combine the oyster sauce, brown sugar, water, light soy sauce, dark soy sauce, fish sauce and black pepper in a small bowl and mix to combine. Set aside for now.
Bring a pot of water to a rolling boil over high heat. Once boiling, add the rice noodles to the pot and cook for 4-5 minutes until tender.
While the noodles are cooking, heat a large pan over medium-high heat. Add 2 tablespoons of vegetable oil followed by the chicken. Fry for 3-4 minutes, or until the chicken is fully cooked. Remove the chicken from the pan and set aside on a separate plate for now.
Heat the pan again over medium-high heat and add the other 2 tablespoons of vegetable oil followed by the garlic and dried chili flakes. Fry for 30 seconds, then add the shallot and red pepper. Stir fry, stirring often, for 2-3 minutes, or until the shallots and red pepper have slightly softened.
Add the chicken back to the pan, followed by the bok choy, scallions, drained rice noodles, and stir fry sauce. Toss everything to combine and stir-fry for another 2 minutes, or until all the sauce is absorbed into the noodles.
Remove the pan from the heat and add the Thai basil as a garnish. Serve immediately and enjoy!
Recipe by: SEASON & SERVE (A FOOD BLOG FOR ALL SEASONS)
Follow Season & Serve on INSTAGRAM