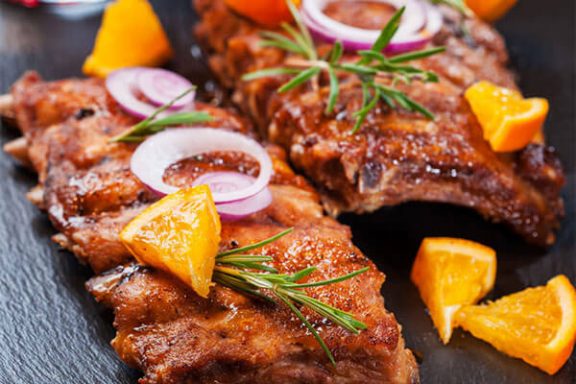 Ingredients
Rub
2 tsp light brown sugar
2 tsp kosher salt
1 tsp chile powder
2 tsp paprika
2 tsp dried oregano
2 racks of side ribs
Sauce
1 tbsp olive oil
2 tbsp minced garlic
1/4 cup tequila
1/2 cup tomato sauce
1/4 cup fresh orange juice
3 tbsp fresh lime juice
2 tsp soy sauce
Directions
Rub
In a small bowl, mix the rub ingredients. Remove the membrane from the back of each rack of ribs. Allow to stand at room temperature fro 20-20 minutes before grilling. Use about half of the rub to season the ribs on both sides. Heat grill to 300°F. Grill meat side down for 30 minutes.
Sauce
In a small saucepan over medium-high heat, warm oil. Add the garlic and cook until it begins to brown, about 30 seconds, stirring occasionally. Add the tequila and stand back for possible flair up. Add the remaining sauce ingredients and the remaining rub. Stir the mixture, and then simmer until it reaches a thick sauce consistency, 8-10 minutes.
After the ribs have cooked for 30 minutes, turn them over. Continue to grill for another 30 minutes and then start basting with the sauce every 15 minutes for the last 30-60 minutes of grilling. Grill until the meat is tender. Total time 1 1/2-2 hours. Let meat rest for 10 minutes before serving.