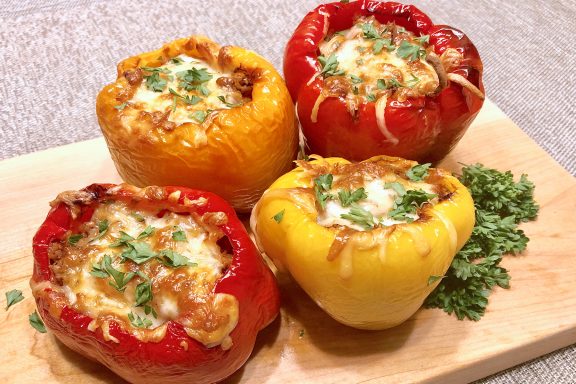 Prep Time: 10 Minutes
Cook Time: 1 Hour 20 minutes
Total: 1 Hour 30 Minutes
Servings: 6
Ingredients:
1/2 cups uncooked rice or quinoa
2 tbsp.extra-virgin olive oil, plus more for drizzling
1medium onion, chopped
1 tbsp. San Remo tomato paste
3 cloves garlic, minced
1 lb. ground turkey
1 (14.5-oz.) can diced tomatoes
1 tsp. dried oregano
Kosher salt
Freshly ground black pepper
6 bell peppers, tops and cores removed
1 c. shredded Monterey jack or Red Barn's Own Smoked Jalapeño Monterey
1 1/2 tsp chili peppers
Freshly chopped parsley, for garnish
Directions:
Preheat oven to 400°. In a small saucepan, prepare rice according to package instructions. In a large skillet over medium heat, heat oil. Cook onion until soft, about 5 minutes. Stir in tomato paste and garlic and cook until fragrant, about 1 minute more. Add ground turkey and cook, breaking up meat with a spoon, until no longer pink, 6 minutes.
Stir in cooked rice and diced tomatoes. Season with oregano, salt, and pepper. Let simmer until liquid has reduced slightly, about 5 minutes. Wash Peppers, cut a hole around the stem and remove. Scoop out seeds.
Place peppers cut side-up in a baking dish and drizzle with oil. Spoon turkey mixture into each pepper then cover baking dish with foil.
Bake until peppers are tender, about 30 minutes. Uncover and top with Monterey Jack. Cake until cheese is melted and browned 10 minutes more.
Garnish with parsley before serving.