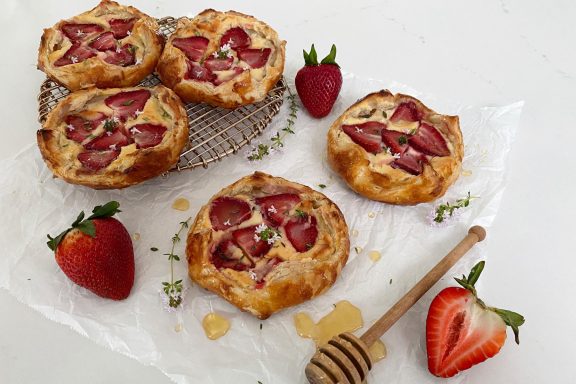 Serves: 8 danishes
Prep Time: 20 minutes | Cook Time: 20 minutes | Total Time: 40 minutes
Ingredients:
For the Cream Cheese Filling:
1 block cream cheese (250g), at room temperature
1 large egg white
3 tablespoons local honey
2 tablespoons icing sugar
½ teaspoon vanilla extract
For the Pastry & Garnishes:
1 egg yolk
2 tablespoons water
1 pint strawberries, sliced
1 tablespoon granulated white sugar
1 396g package puff pastry, thawed
½ cup all-purpose flour, for rolling out the pastry
4 sprigs thyme, fresh
8 teaspoons local honey
Directions:
Preheat the oven to 400 degrees F. Line two baking trays with parchment paper and set aside.
Combine all the cream cheese filling ingredients in a medium-sized bowl and mix to combine. Reserve the egg yolk for the egg wash. Set aside.
Place the egg yolk in a small bowl and add the water. Mix to combine and set aside.
Add the sliced strawberries to a bowl with the sugar and mix to combine. Set aside.
Remove the puff pastry from the packaging. Dust a clean work-surface and rolling pin with flour and roll out half of the puff pastry into a 20cmx20cm square. Reserve the other half for baking later. Use a sharp knife to cut the puff pastry into 4 even squares.
Place the puff pastry squares onto one of the parchment lined baking trays. Top each square with 2 heaping tablespoons of the cream cheese filling in the center of each of the puff pastry squares, then top with 4 to 5 slices of strawberries.
Use a pastry brush to brush the egg wash around the edges of the pastry. Fold the corners into the center of the danish, leaving the strawberries in the center exposed. Fold the alternating edges in to form an octagon shape. Repeat this process for the remaining danishes.
Brush the edges of the pastry with the egg wash and bake in the center of the oven for 20 minutes, or until the pastry is golden.
As the danishes are baking, repeat this process for the remaining puff pastry, making 4 more danishes. Bake these in the oven for 20 minutes after the first tray is done baking.
Once the danishes are baked, let cool for 2 to 3 minutes.
Remove the thyme leaves from the steams and sprinkle evenly over all the danishes. Drizzle the danishes with honey and serve immediately.