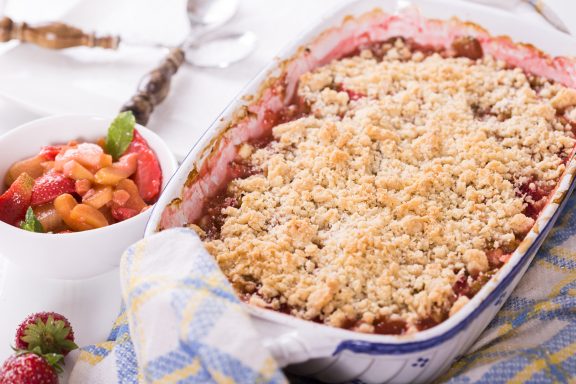 Serves: 6-8
Prep Time: 20 minutes | Cook Time: 50 minutes | Total Time: 1 hour 10 minutes
Ingredients:
For the Filling:
1 lb rhubarb stalks, trimmed and sliced 1/2-inch thick
1/2 lb strawberries, hulled and quartered
1/2 cup granulated sugar
1 1/2 tbsp cornstarch
1 tsp vanilla extract
For the Topping:
 3/4 cup all-purpose flour, spooned into measuring cup and levelled-off with a knife
1/2 cup packed light brown sugar
2 tbsp granulated sugar
1/4 tsp salt
6 tbsp unsalted butter, cut into 1/2-inch cubes
3/4 cup old fashioned rolled oats
1/2 cup chopped pecans
Lightly sweetened whipped cream or vanilla ice cream, for serving (optional)
Directions:
For the Filling:
In a large bowl, combine the rhubarb, strawberries, sugar, cornstarch, and vanilla. Stir until the fruit is evenly coated with the sugar mixture, and the sugar mixture is no longer white. Transfer the fruit mixture to a 2-quart or 8-inch baking dish (no need to butter it) and set aside while you prepare the topping.
For the Topping:
In the bowl of a food processor, combine the flour, brown sugar, granulated sugar and salt. Process until well combined, about 30 seconds. Add the cold butter and pulse until the mixture resembles coarse crumbs, with a few pea-sized clumps of butter within. Transfer to a medium bowl and stir in the oats and chopped pecans. Spoon the topping evenly over the fruit without packing down. Bake for 45-55 minutes, until the fruit is bubbling around the edges and the topping is golden brown. Cool for 20 minutes before serving. Spoon into shallow bowls and serve with vanilla ice cream.
Note: If your baking dish is shallow, place it on top of a foil-lined sheet pan to catch any spills that might bubble over the edges.
Note: Don't be tempted to increase the strawberries in the recipe, or you'll end up with fruit soup (they release a lot of juice).
Freezer-Friendly Instructions: The crisp can be frozen tightly covered for up to 3 months. Before serving, reheat it, uncovered, in a 300°F oven until heated through and crisp on top.
*Recipe courtesy of Once Upon a Chef with Jenn Segal