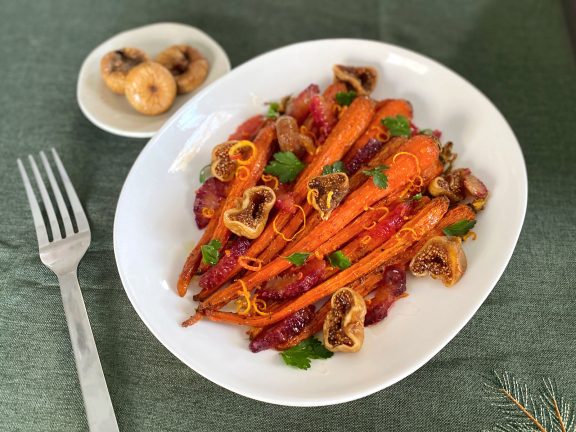 Serves: 4
Prep Time: 15 minutes | Cook Time: 40 minutes| Total Time: 55 minutes
Ingredients:
15 medium-sized carrots, whole, peeled
1 tablespoon olive oil
½ ground black pepper
½ teaspoon cayenne pepper
¼ teaspoon ground cinnamon
¼ teaspoon sea salt
1/8 teaspoon ground cumin (optional)
8 dried figs
1 cup hot water
2 tablespoons honey
2 blood oranges, peeled and segments removed
2 tablespoons Italian parsley, finely chopped
½ teaspoon orange zest
Directions:
Preheat the oven to 425 degrees F. Line a baking tray with parchment paper and set aside.
Place the peeled whole carrots on the baking tray in one layer. Drizzle with olive oil and sprinkle over the black pepper, cayenne pepper, cinnamon, salt, and cumin (if using). Toss the carrots in the spices and oil to ensure they are evenly coated.
Bake in the oven for 40-45 minutes, or until golden brown, ensuring you flip the carrots halfway through cooking.
While the carrots are cooking, place the dried figs in a bowl and add the hot water. Let the figs soak for 5 minutes to rehydrate slightly. After 5 minutes, drain the water and slice the figs in halves. Set aside for later.
To assemble the carrots, place the roasted carrots on a platter and top with the halved figs, orange segments, parsley, and orange zest. Drizzle over the honey and serve immediately. Enjoy!
Spiced Carrot Salad with Figs & Honey
Recipe Notes:
Depending on the size of the carrots, they may take longer/shorter to cook. For medium-sized carrots, aim to roast them for 15 minutes per side. For larger carrots, roast for 20 minutes per side. When in doubt, check after 15 minutes and flip once the carrots start to turn golden brown.
You can substitute blood oranges with regular navel oranges if desired.