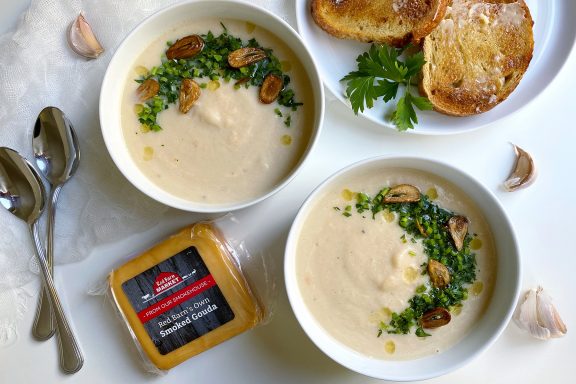 Serves: 2-4
Prep Time: 15 minutes | Cook Time: 45 minutes | Total Time: 1 hour
Ingredients:
For the Soup:
1 large head cauliflower (about 4 cups)
4 garlic cloves, whole with skins on
1 tablespoon olive oil
½ teaspoon salt
½ teaspoon ground black pepper
4 cups low-sodium chicken stock (or vegetable broth)
1 teaspoon cayenne pepper (optional)
1 tablespoon fresh lemon juice
1 cup (100g) Red Barn Market Smoked Gouda, shredded
For the Garnish:
2 tablespoons chives, finely chopped
2 tablespoons Italian parsley, finely chopped
4 garlic cloves, thinly sliced
¼ cup olive oil
Directions:
Preheat the oven to 425 degrees F.
Remove the core and leaves of the cauliflower and discard. Use a knife to separate the head of cauliflower into florets and place them on a parchment-lined baking sheet in a single layer.
Add the 4 whole garlic cloves (with skins on) to the baking sheet with the cauliflower. Drizzle the garlic and cauliflower with 1 tablespoon of olive oil and sprinkle evenly with salt and pepper.
Roast the garlic and cauliflower in the oven for 30 minutes. After 30 minutes, the cauliflower and garlic should be lightly browned and softened.
Remove the skins from the roasted garlic and transfer to a large pot along with the roasted cauliflower. Add the chicken stock and cayenne pepper.
Bring the soup to a boil, then reduce the heat to medium and cook for 15 minutes, or until the cauliflower has softened.
While the soup is cooking, fry the garlic for the garnish. Add the ¼ cup of olive oil to a small frying pan along with the thinly sliced garlic. Cook over medium heat until the garlic has turned golden brown and is crispy, about 5-10 minutes. Remove the sliced garlic from the pan and drain on a paper towel. Keep the garlic-infused oil for garnish at the end.
Let the soup cool slightly before blending with an immersion blender or a high-power blender.
Transfer the warm soup back to the pot and add the lemon juice and Smoked Gouda cheese. Stir the cheese through until it fully melts into the soup. Reheat if desired, then add into bowls.
Garnish the soup with chopped chives, chopped parsley, the crispy garlic slices and some extra garlic-infused olive oil. Enjoy!
Recipe by: SEASON & SERVE (A FOOD BLOG FOR ALL SEASONS)
Follow Season & Serve on INSTAGRAM