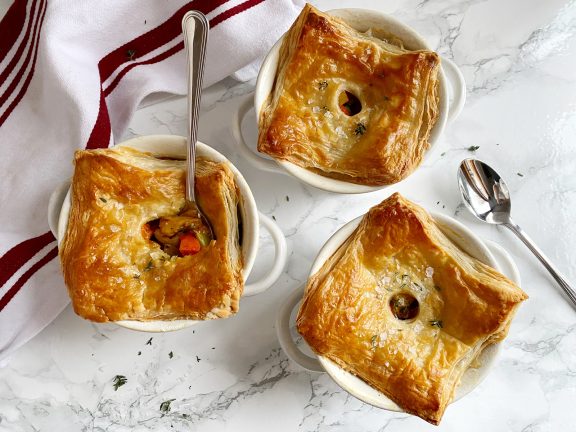 Serves: 4
Prep Time: 15 minutes | Cook Time: 1 hour 30 minutes. | Total Time: 1 hour 45 minutes
Ingredients:
For the Roasted Vegetables:
2 cups butternut squash
2 cups orange yam
2 large Yukon gold potatoes
2 large carrots, peeled
1 medium yellow onion
2 stalks celery
1 teaspoon salt
1 teaspoon ground black pepper
1 tablespoon olive oil
For the Gravy:
1 ½ cups vegetable stock
2 tablespoons cornstarch
2 tablespoons cold water
½ teaspoon cayenne pepper
1 teaspoon fresh thyme leaves
1 bay leaf
For the Pastry:
1 sheet puff pastry
1 large egg, beaten
1 tablespoon water
Directions:
For the Roasted Vegetables:
Preheat the oven to 450 degrees F. Line a large baking sheet with parchment paper and set aside.
Cut the vegetables up into small 1-cm cubes and place on a baking tray in one layer. Sprinkle with the salt, pepper and olive oil and toss everything to coat. Bake in the oven for 1 hour or until golden brown, flipping every 20 minutes.
Remove from the oven and let cool slightly.
For the Gravy:
Add the vegetable stock to a small pot over medium-high heat and bring to a boil.
Combine the cornstarch and cold water in a small bowl and mix to dissolve the cornstarch.
Add the cornstarch to the vegetable stock, whisking as you add it to thicken the gravy. Bring to a boil and once thickened, add the thyme, bay leaf and cayenne pepper. Simmer for 20 minutes, then remove the bay leaf.
To Assemble:
Preheat the oven to 375 degrees F.
To assemble the pot pies, divide the roasted vegetables amongst oven-proof bowls (about 1 ½ cups per bowl) and add pour ¾ cup of gravy on top of the vegetables in each bowl.
Roll out the puff pastry into a 9×9 inch square and divide it evenly into 4 smaller squares. Use a small cookie cutter to cut out a hole in the centre of each puff pastry square to allow the steam to escape as the pot pie bakes.
Make an egg wash by combining the egg and water in a bowl, then use a pastry brush to brush the rims of each bowl with egg wash to help the puff pastry stick.
Add the puff pastry sheet to the individual bowls, pressing down gently to seal the pastry onto the bowl. Brush the top part of the pastry with extra egg wash.
Place the individual pot pies on a baking tray and bake for 20-25 minutes, or until the puff pastry is golden brown.
Let cool slightly before serving and enjoy!
Note:
You can also bake this in a large 9×9 inch tray and top it with the puff pastry. Just be sure to poke some air vents into the puff pastry to allow the steam to escape as it bakes and bake until the puff pastry is golden brown and crisp (20-25 minutes).