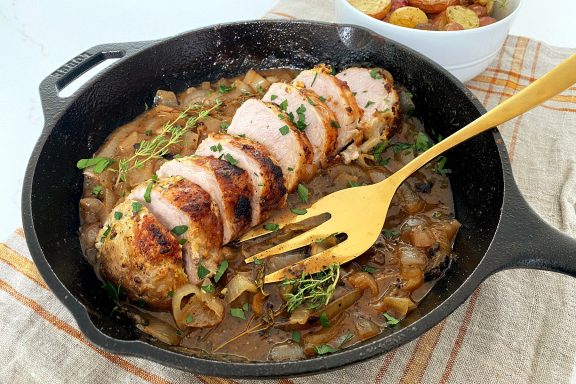 Servings: 4-6
Prep Time: 20 minutes | Cook Time: 1 hour | Total Time: 1 hour 30 minutes
Ingredients:
1 pork tenderloin (approximately 600 grams)
2 tablespoons grainy mustard
½ teaspoon sea salt
1 teaspoon ground black pepper
2 tablespoons unsalted butter
2 tablespoons olive oil
6 sprigs fresh thyme
2 cups low-sodium chicken stock (or a dry white wine)
2 medium yellow onions, sliced into 1-cm thick slices
1 tablespoon corn starch
3 tablespoons cold water
2 tablespoon Italian parsley, for garnish
Directions:
Preheat the oven to 350 degrees F.
Rub all sides of the tenderloin with the grainy mustard, salt, and pepper. Set aside.
Heat a cast-iron pan over medium-high heat. Once hot, add the butter and olive oil to the pan. Sear the tenderloin for 3 minutes per side, or until golden brown. Sear the ends of the pork roast as well.
Once the whole tenderloin is seared, remove from the pan and set aside. Add the onions and thyme to the pan and cook for 2-3 minutes, or until the onions just begin to get tender. Add the chicken stock (or white wine, if using) to the pan.
Bake the tenderloin, uncovered, in the center of the oven for 1 hour to 1 hour and 15 minutes, or until a thermometer inserted into the center reads 155 degrees F.
Remove from the oven and place the tenderloin on a plate. Cover with aluminum foil and let rest for 10 minutes while you make the sauce.
Place the cast-iron pan with the onions and sauce on the stove and bring to a boil. There should be 1 cup of stock left in the pan but add additional chicken stock (or wine) as needed. Add the cornstarch and water to a bowl and mix to combine, then add the cornstarch mixture to the pan. Whisk for 1 minute or until thickened. Remove from the heat.
Slice the pork tenderloin and top with the gravy and chopped parsley. Enjoy!