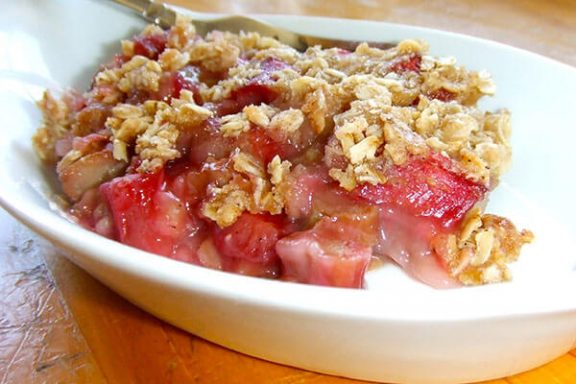 Total 01:05
Prep 00:15
Cook 00:50
Serves 6
Ingredients
2 1/2 lbs. rhubarb, trimmed and cut into 1/2 inch pieces
3 tbsp. cornstarch
3/4 cup sugar
1/2 cup brown sugar
Crisp Topping
1 cup oats
1/3 cup brown sugar
1/4 cup all purpose flour
4 tbsp cold unsalted butter, cut into small pieces
1/4 tsp salt
Directions
Preheat oven to 350°F with rack in middle.
Put rhubarb in a 9″ x 9″ dish and stir in cornstarch and sugars. Let stand 15 minutes, stirring occasionally. Cover dish with foil and bake just until liquid is just starting to bubble, about 20 minutes.
While the rhubarb cooks, make the topping by combining all the ingredients.
Uncover dish and scatter topping over fruit. Bake until top is golden brown and rhubarb is tender, about 30 minutes.
Tips
Top warm rhubarb crisp with a scoop of vanilla ice cream!