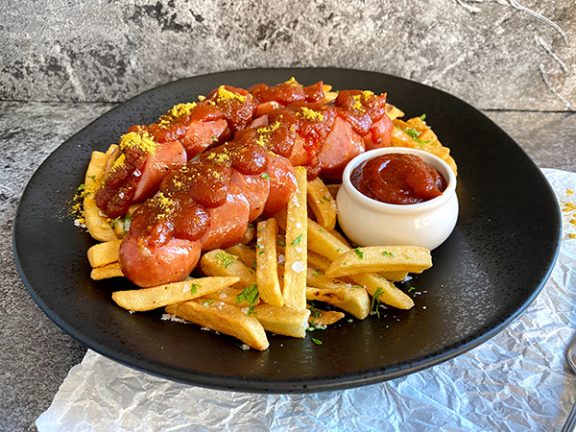 Serves: 4
Prep Time: 10 minutes | Cook Time: 30 minutes | Total Time:  40 minutes
Ingredients:
For Curried Ketchup:
1 tablespoon olive oil
½ cup yellow onion, finely chopped
2 cloves garlic, finely chopped
1 tablespoon curry powder, plus more for garnish
2 tablespoons apple cider vinegar
1 ½ cups ketchup
¼ cup dark brown sugar, packed
1 teaspoon Worcestershire sauce
For the Sausage & Fries:
2 Red Barn Markets Farmers Sausage
1 teaspoon olive oil
½ cup water
1 package frozen French fries (650 g)
2 teaspoons salt
2 tablespoons Italian parsley, finely chopped
Directions:
To Make the Curry Ketchup:
Heat a small pot over medium-high heat. Once hot add the olive oil and onion and cook for 4-5 minutes until the onion becomes soft and translucent (but not brown). Once the onion is translucent, add the garlic to the pot and cook for 30 seconds.
Reduce the heat to medium and add the curry powder. Mix the curry powder with the onions and garlic and cook for 2 minutes to toast the curry powder.
Add the apple cider vinegar, ketchup, brown sugar, and Worcestershire sauce to the pot and mix everything to combine.
Cover the pot with a lid and let simmer for 2-3 minutes until the ketchup is bubbling. Once the ketchup bubbles, reduce the heat to low and cook for 15 minutes to let all the flavours come together. Stir often to ensure the ketchup doesn't scorch on the bottom of the pot.
Remove the pot from the heat and use an immersion blender to puree the ketchup until it is totally smooth. If you don't have an immersion blender, simply transfer to a regular blender to puree. Set the curry ketchup aside until ready to serve.
To Make the Fries & Sausage:
Place the French fries in the oven and cook according to the package directions.
While the fries are cooking, heat a large frying pan over medium-high heat. Once hot, add the olive oil to the pan followed by the Farmers sausage. Fry for 2-3 minutes per side until golden brown.
Next, reduce the heat to medium, add the water to the pan, cover, and simmer for 5 minutes until the sausage is warmed through. Once warmed, remove from the heat and slice the sausage into ½ inch thick pieces.
Once the fries are cooked, sprinkle with the salt and chopped parsley.
To serve, place the fries on a plate and top with the sliced sausage, a drizzle of curried ketchup, and a light dusting of curry powder for garnish. Serve immediately and enjoy!