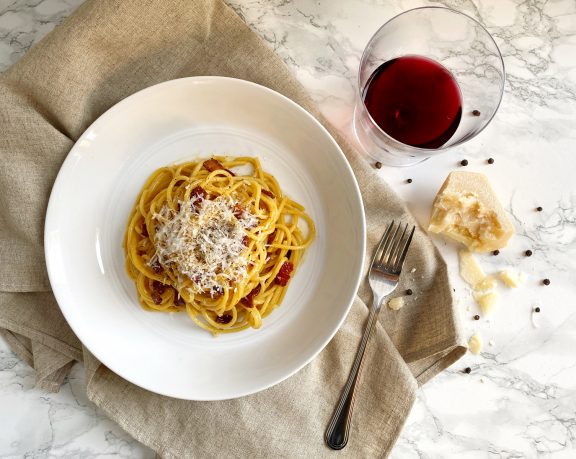 Serves: 2
Prep Time: 5 minutes  | Cook Time: 15 minutes  | Total Time: 20 minutes
Ingredients:
Water, for boiling
1 teaspoon salt
250 g spaghetti
4 strips Red Barn Double Smoked Bacon, cut into 1-cm strips
4 large eggs
1 ½ cups Parmesan cheese, freshly grated
½ teaspoon ground black pepper
Directions:
Bring a pot of water to a boil over high heat. Once boiling, add the salt and the spaghetti to the pot. Stir and cook the pasta for 8-10 minutes, or until al dente.
While the pasta is cooking, fry the bacon. Cook the bacon over medium-high heat in a large frying pan until crisp. Drain the bacon fat so that you have 1 tablespoon of fat left in the pan.
Add the eggs to a bowl and whisk to combine. Then add the Parmesan cheese and pepper, and mix to combine again.
Once the pasta is cooked, add it into the pan with the bacon and toss to combine. Remove from the heat and let cool for 2-3 minutes.
Next, pour in the egg and Parmesan cheese mixture on top of the warm pasta and stir vigorously to combine. This will create a nice smooth sauce.
Once the pasta is coated in the sauce, place the pasta in a bowl and garnish with a sprinkle of Parmesan cheese and some more black pepper.
Serve immediately and enjoy!
Recipe created by a local Victoria recipe developer; Melissa from from Season & Serve Blog