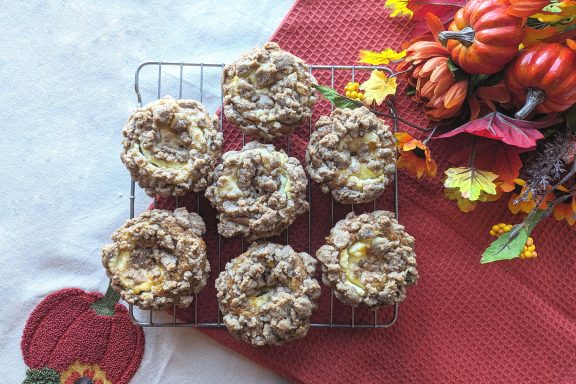 Serves: 12 Muffins
Prep Time: Cook Time: 30 minutes | Total Time: 1 hr 10 minutes
Ingredients:
Cream Cheese Filling:
8 ounces cream cheese, at room temperature
1/3 cup granulated sugar
2 tablespoons sour cream
1 large egg
Crumb Topping:
1/2 cup packed light brown sugar
3/4 teaspoon ground cinnamon
Pinch kosher salt
4 tablespoons unsalted butter, melted
1/2 cup all-purpose flour
Pumpkin Batter:
1 1/2 cups all-purpose flour (see Cook's Note)
1/2 teaspoon baking soda
1/2 teaspoon ground cinnamon
1/2 teaspoon kosher salt
1/4 teaspoon baking powder
1 cup pure pumpkin puree
2/3 cup granulated sugar
1/3 cup vegetable oil
1 teaspoon pure vanilla extract
1 large egg
Directions:
Preheat the oven to 350 degrees F and line a 12-cup muffin tin with paper liners.
For the cream cheese filling: Beat the cream cheese, granulated sugar and sour cream in a large bowl with an electric mixer on medium-high speed until smooth and combined, scraping down the sides of the bowl with a rubber spatula as needed, 1 to 2 minutes. Add the egg, then continue to beat until fully incorporated, about 1 minute more. Transfer to a resealable bag or small pastry bag, then set aside at room temperature.
For the crumb topping: Stir together the brown sugar, cinnamon and salt in a medium bowl until combined. Drizzle in the melted butter and mix with a fork until just combined. Add the flour and mix with the fork until evenly distributed and small, pea-size clumps form. Do not overmix or it will turn into a paste. Set aside at room temperature.
For the pumpkin batter: Whisk together the flour, baking soda, cinnamon, salt and baking powder in a medium bowl until combined.
Whisk together the pumpkin, granulated sugar, oil, vanilla and egg in a large bowl until smooth, then add the flour mixture and stir until just combined.
Divide the pumpkin batter evenly among the prepared muffin tin cups, filling each about three-quarters of the way up. Snip the end of the resealable bag or pastry bag, then insert the tip into the center of each cup about three-quarters of the way down and squeeze about 2 tablespoons of the cream cheese filling into the center of each muffin. The muffin cups should be filled almost to the top after piping in the cream cheese filling. Evenly sprinkle the muffins with the crumb topping, pressing gently into the batter to adhere.
Bake until the muffins puff, the crumb topping is golden brown and a toothpick inserted into the muffin comes out clean (avoid the cream cheese filling when testing with a toothpick), about 30-35 minutes. Let the muffins cool in the pan for 10 minutes, then carefully remove to a wire rack to cool completely.
Original Source: https://www.foodnetwork.com/recipes/food-network-kitchen/pumpkin-cream-cheese-muffins-11742842