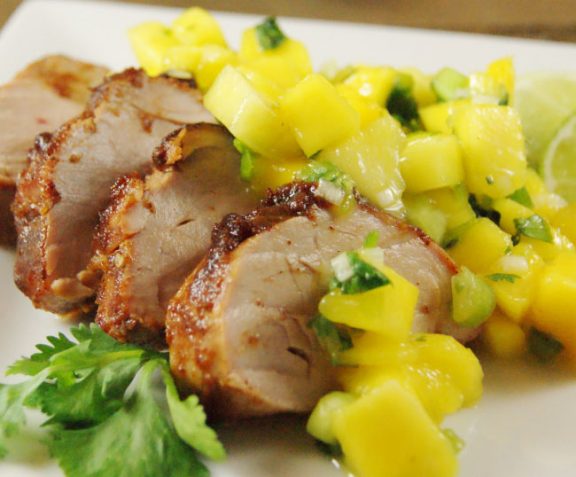 Prep Time: 1 hr 30 min
Cook Time: 30 min
Ingredients
• 1/4 cup packed brown sugar
• 2 tbsp apple cider vinegar
• 1 tbsp tomato paste
• 1 tsp ground cumin
• 1 1/2 tsp chili powder
• 1/4 tsp ground black pepper
• 1lb pork tenderloin• 3 cups cubed peeled ripe mango (about 2-3 mangoes)
• 1 cup chopped green onions
• 1/2 cup chopped fresh cilantro
• 3 tbsp finely chopped seeded serrano or jalapeno pepper
• 1 tsp sugar
• 1/3 cup fresh lime juice
Directions for Mango Salsa
Combine all mango salsa ingredients in a bowl and toss well. Cover and chill for about 30 minutes before serving.
Directions for Pork Tenderloin
Prepare the Pork Tenderloin
Combine brown sugar, apple cider vinegar, tomato paste, cumin, chili powder, and black pepper in a shallow dish; mix well. Add pork and turn to coat all sides. Cover and marinate in the refrigerator for 1 hour.
Line a broiler pan or baking sheet with aluminum foil and spray with non-stick cooking spray. Place pork on the prepared pan and brush with some of the marinade left in the dish. Bake at 450 degrees for 20-35 minutes.
Remove the pork tenderloin from the oven and let rest for 10 minutes before slicing. Slice tenderloin placing on a platter, and spoon mango salsa on top.