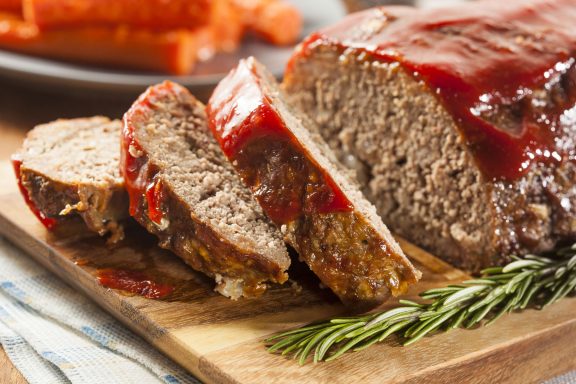 Prep: 20 minutes
Cook: 75 minutes
Serves: 6
INGREDIENTS
Meatloaf
• 2/3 cups dry bread crumbs
• 1 cup milk
• 1 1/2 lbs ground beef
• 2 eggs slightly beaten
• 1/4 cup grated onion
• 2 tsp salt
• 1/4 tsp pepper
• 1/2 tsp sage
Sauce
6 tbsp brown sugar
8 tbsp ketchup
1/2 tsp nutmeg
2 tsp mustard
DIRECTIONS
 Soak bread crumbs in milk.  Add beef, eggs, onion and seasonings and mix together in a bowl. Pack lightly into greased loaf pan.
Bake for 45 minutes.
Remove from oven and spoon off any fat on top of meatloaf.
Spread with Piquant Sauce and bake for remaining 30 minutes.
Serve with mashed or roasted potatoes.