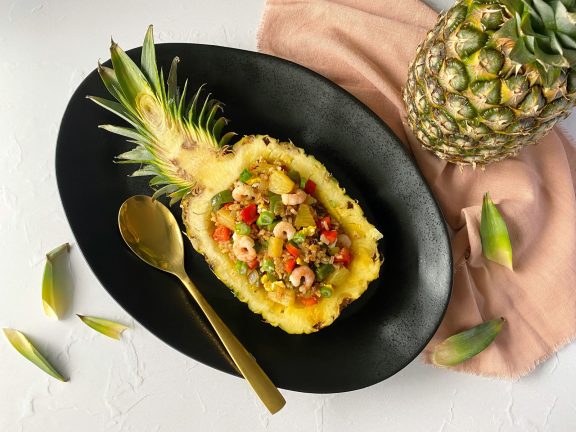 Serves: 4
Prep Time: 10 minutes | Cook Time: 15 minutes | Total Time: 25 minutes
Ingredients:
2 tbsp vegetable oil
1 egg, beaten
3 garlic cloves, finely chopped
½ cup onion, finely chopped
1 teaspoon curry powder
½ cup red bell pepper, chopped
½ cup green bell pepper, chopped
2 cups day-old jasmine rice, cooked (see notes)
½ cups pineapple, chopped
½ cup pre-cooked baby shrimp, thawed
1 scallion, sliced
For the Sauce:
1 tablespoon oyster sauce
1 tablespoon fish sauce
1 tablespoon soy sauce
1 tablespoon water
1 teaspoon sugar
Directions:
Combine all the sauce ingredients in a small bowl and set aside.
Heat a large pot frying pan or wok over medium-high heat. Once hot, add 1 tablespoon of oil to the pan, followed by the egg. Fry the egg for 1-2 minutes, chopping it into small pieces. Once the egg is cooked, remove it from the pan.
Add 1 tablespoon of oil to the pan, followed by the garlic, onion, and curry powder. Stir fry for 1 minute.
Add the red and green bell pepper to the pan. Stir fry for 1 minute.
Add the rice to the pan and stir fry for 3-4 minutes, or until the rice becomes toasted and crispy. Stir often to avoid sticking.
Once the rice is cooked, add the pineapple, shrimp, and sauce, and mix to combine. Cook the rice for another 2 minutes to allow the flavours to come together.
Serve the rice on a plate or in a hollowed-out pineapple. Top with scallions and enjoy!
Notes:
Prepare the jasmine rice one to two days before you want to make this recipe to ensure that it is dry. Simply cook 1 cup of rice in 2 cups of water for 20-25 minutes on low heat. Once cooked, you will have 2 cups of cooked rice.