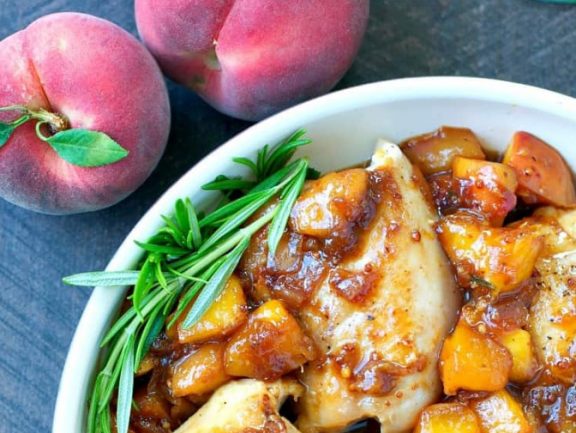 Ingredients
1 lb. Island Farmhouse boneless skinless chicken thighs
1 ½ tablespoons canola oil divided
1/4 cup finely chopped sweet onion
½ teaspoon minced fresh rosemary
 1/3 cup coconut palm sugar or can substitute with brown sugar
 2 tablespoons Braggs apple cider vinegar
 2 teaspoons Dijon mustard, use one teaspoon each of wholegrain mustard and smooth Dijon
 ½ teaspoon salt divided
 3 BC Grown medium ripe peaches pitted and chopped
 ¼ teaspoon pepper
Instructions
1. Heat a large skillet over medium-high heat. Add 1 tablespoon of the oil to the pan and swirl it around to coat. Sprinkle chicken with ¼ teaspoon salt and pepper. Add chicken to the pan and cook for about 7 minutes per side, or until cooked through and golden brown. Remove chicken from skillet and set aside on a plate. Cover with foil to keep warm.
2. Do not clean out the skillet, but add another 1 ½ teaspoons oil. Add onion and rosemary; cook for 1 minute or until lightly golden, scraping up the bits from the bottom of the skillet as you stir. Add coconut palm sugar, vinegar, mustard, ¼ teaspoon salt, and peaches; cook 12 minutes or until peaches are softened.
3. Return chicken to the skillet and heat just until warm, spooning sauce over the meat.
4. Serve chicken thighs with peach sauce.
Recipe by: The Seasoned Mom