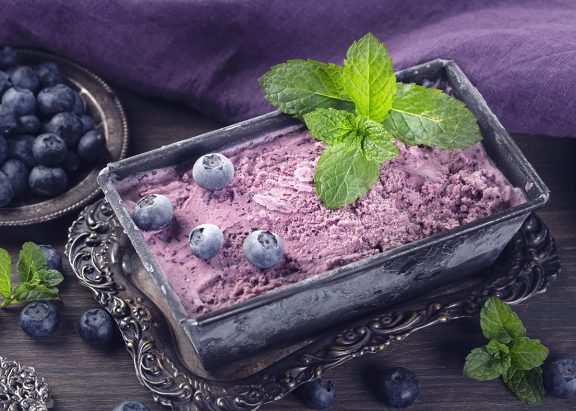 Prep Time: 15 Minutes
Total Time: 7 Hours
Serves: 8
Ingredients:
4 Cups BC Grown Blueberries, save 1/2 cup for garnish
1/4 Cups of Rogers Granulated Sugar
1 Piece of Lemon, Juice & Zest
2 Cups Heavy Cream
1 Can Sweetened Condensed Milk
Directions:
1. Puree blueberries using a food processor then transfer to a medium saucepan, over medium heat. Add Sugar. Lemon Juice and Zest. Mix well then reduce heat once boiled. Simmer for about 15 minutes or until mixture is slightly reduced.
2. Transfer mixture to a medium bowl and place in refrigerator to chill for about 1-2 hours.
3. In a large bowl using a hand mixer or an electric mixer, beat heavy cream until stiff peaks form. Fold in sweetened condensed milk until fully combined, then add in chilled blueberry puree mixture.
4. Transfer to a 9"x5" loaf pan and cover with Saran Wrap. Freeze until firm for about 5 hours.
5. Scoop ice cream and place in a small bowl. Serve with fresh BC Grown Blueberries on top!