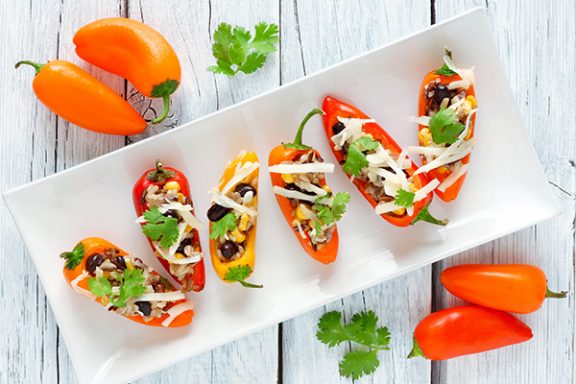 Prep Time: 5 Mins
Cook Time: 25 Mins
Total Time: 30 Mins
Serves: 5
Ingredients
12-15 pcs of Mini Sweet Peppers
1 tablespoon olive oil
1 large onion, chopped
2 garlic cloves, minced
Red Barn's Own Extra Old Cheddar Cheese
1 can of San Remo black beans, drained
1/2 cup of whole kernel corn, drained
1 cup of cooked Lundberg Organic Brown rice
1/4 teaspoons ground cumin
1/4 teaspoon dried oregano
Salt & Pepper, to taste
Fresh Cilantro, minced
Directions
In a large skillet, heat olive oil over medium-high heat. Add onion and garlic; cook and stir 1-2 minutes. Add beans, rice, corn, cumin, oregano, salt & pepper. Cook for about 5-7 minutes.
Rinse mini sweet peppers and scoop out seeds. Stuff peppers with the bean and rice mixture. Top with Red Barn's Own Extra Old Cheddar Cheese and fresh cilantro!
Bake for about 10-15 mins at 375F. Serve!