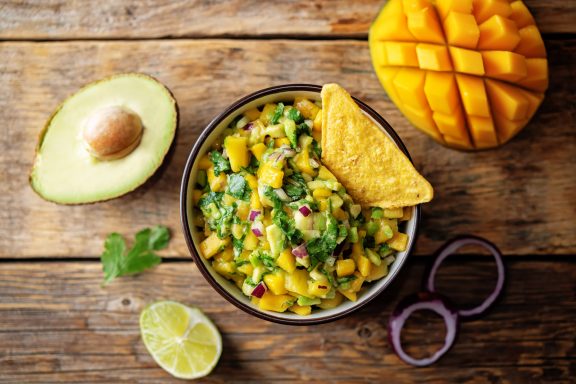 Yields: 2 cups | Prep Time: 10 min | Total Time: 10 min
Ingredients
1½ cup fresh mango (diced) If using frozen mango, allow to thaw fully.
½ cup cilantro (finely chopped, loosely packed)
⅓ cup red bell pepper (diced)
¼ cup red or sweet onion (finely diced)
1 habanero pepper (extra finely diced or chopped in food processor) Be careful to wash hands thoroughly after touching the habanero peppers. They are very hot.
1 large fresh lime (juiced)
½ teaspoon cumin
¼ teaspoon salt
Directions
In small dish, combine mango, cilantro, lime juice, red onion, habanero pepper, red bell pepper, cumin and salt until well combined. Add additional salt to taste if preferred.

Enjoy with tortilla chips or served with barbecued chicken or pork.
Notes
Instead of using 1.5 cups diced mango, you can use half mango and half pineapple for a more tangy salsa. Just follow the remaining recipe directions.