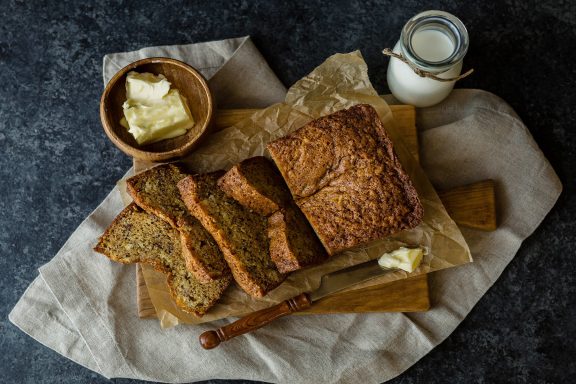 Prep Time: 15 minutes
Cook Time: 60 Minutes
Total Time: 1 Hour & 15 Minutes
Serves: 5-10
Ingredients:
2 cups of Bake my Day all-purpose flour
2 teaspoons baking soda
1/2 teaspoon salt
2 teaspoons of ground cinnamon
1/2 cup butter, softened
1/2 cup vegetable oil
1 1/2 cups white sugar
3 Farmer Ben's eggs
1/4 cup Organic Dairyland 2% Milk
1 teaspoon vanilla extract
1 teaspoon, melted Fraser Valley Butter
3 cups peeled, chopped Organic Kent Mangoes
1/2 cup raisins
1/2 cup chopped walnuts
1/2 cup shredded coconut
Directions:
Preheat oven to 350 degrees Fahrenheit. Grease two 9 x 5 inch loaf pans. In a large bowl, sift together flour, baking soda, salt, and cinnamon. In another a large bowl, beat together the butter, oil and sugar until light and fluffy.
Stir in the Farmer Ben's eggs one at a time, beating well with each addition, then stir in the vanilla and milk. Blend this mixture into the flour mixture; just to combine. Fold in the kent mangoes, raisins, walnuts, and coconut; mixing just enough to evenly combine.
Let stand for 20 minutes then bake in preheated oven for 50 to 60 minutes or until a toothpick inserted into center of the loaf comes out clean.
Place in a cooling rack. Serve.