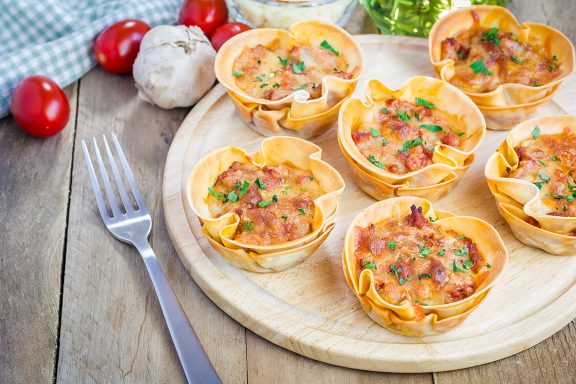 Prep time: 5 Minutes
Cook time: 35 Minutes
Total: 40 Minutes
Serves: 3-4
Ingredients:
3 Packs of La Molisana Lasagna Noodles
1/2 pound of ground turkey or beef
1 cup of Olivieri pasta sauce
1/3 cup of Dairyland cottage cheese
1/4 teaspoon garlic powder
2 tube of refrigerated crescent rolls –
2 cups of Red Barn's Own Cheddar Cheese or mozarella
Parsley, chopped
Salt & Pepper to taste
Directions:
Preheat oven to 375°. Cook lasagna noodles according to package directions. Drain and rinse with water; cut each noodle into 6 squares.
In a medium or large skillet over medium heat, crumble & cook turkey around 6-8 minutes. Add in sauce, cottage cheese and stir. Add garlic powder, salt and pepper. Bring to a boil then set aside.
Unroll both tubes of crescent dough; separate each into 8 triangles. Press each triangle onto bottom and up sides of a greased muffin cup. Layer each with 1 tablespoon cheese, 1 noodle piece and 1 rounded tablespoon meat sauce (discard extra noodle pieces). Sprinkle with remaining cheese.
Bake on a lower oven rack until crust is golden brown, 15-20 minutes. Let stand 5 minutes before removing from pan. Top with chopped parsley.
Tip:
We tried our favourite store bought Wonton wrappers with this recipe and it was amazing! Just place the Wonton wrappers in your muffin pan, add the ground beef/turkey mix and you're all set!