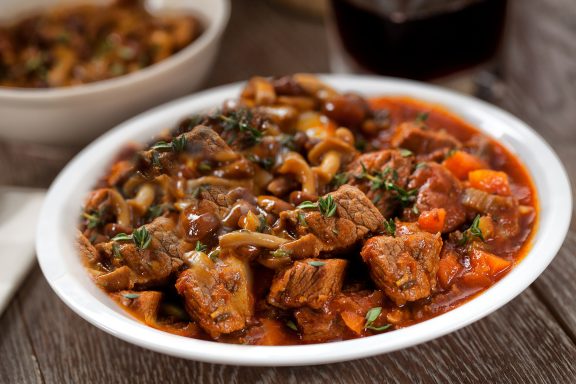 Prep Time: 20 minutes
Cook Time: 2 hours 30 minutes
Total Time: 2 Hours 50 Minutes
Ingredients:
1 1/4 stewing beef
7 whole mushrooms, cut into pieces
3-4 celery sticks, cut into pieces
1 white onions, peeled and cut into cubes
1-2 pieces of carrots, peeled and cut into cubes
2 cloves of garlic, minced
2 tbsp tomato paste
4.5 cups of Red Barn's Own Beef stock
2 tbsp Gallo Extra Virgin Olive Oil
1 large bay leaf
1/3 tsp dried thyme
Salt & Pepper
Directions:
In a medium bowl, add your stewing beef and minced garlic. Mix it all together.
Over medium heat, place the heavy bottomed pot on the stove. Add the oil, making sure that the rest of the pot is well covered. Add the mushrooms and stir. Keep for about 2 minutes. Keep stirring and leave them for another minute. Remove mushrooms from the pot and set aside.
Add more oil to the pot then add the stewing beef. Brown the beef and add more oil as needed. Add the bay leaf, thyme and tomato paste. Keep stirring making sure that all the beef is coated with the tomato paste. Keep for about a minute.
Add 1 cup of broth into the pan and scrape up any browned bits from the bottom of the pot. Slowly add the rest of the broth and bring the stew up to a simmer. Reduce heat and cover the pot. Keep it for about 1 hour and 30 minutes.
Check the tenderness of the meat by inserting a fork into it. It should meet little to no resistance. If the meat is still tough, let it cook for another 20-30 minutes.
When the meat is tender enough, add the vegetables and turn up the heat until it simmers. Then, after it simmers make sure to turn the heat back down again and let it simmer without the cover for 40 minutes to an hour or until the vegetables and meat are tender. Add salt and pepper to taste.
Tips:
Try adding oregano or orange peel for more flavour.