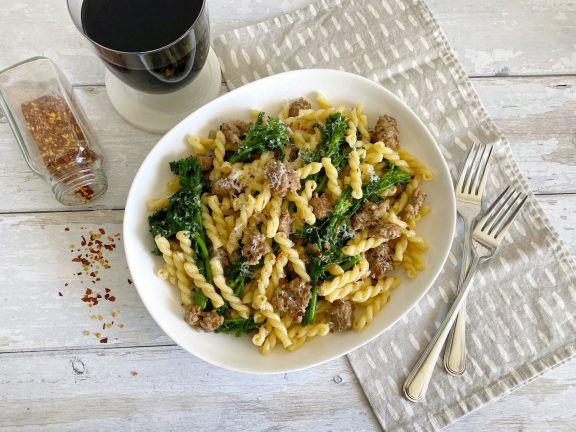 Serves: 4
Prep Time: 5 minutes | Cook Time: 20 minutes | Total Time: 25 minutes
Ingredients:
6 Red Barn Market's Italian Sausage, meat removed from the casing
¼ cup shallot, finely chopped
3 cloves garlic, finely chopped
1 tablespoon red pepper flakes, plus extra for garnish
Water, for boiling
1 tablespoon sea salt
450 grams gemelli pasta
1 bunch kale tops, cut into 2-inch pieces
3/4 cup grated Parmesan cheese, plus extra for garnish
Directions:
Heat a large frying pan over medium-high heat. Once hot, add the olive oil to the pan, followed by the sausage that has been removed from the casing.
Fry the sausage for 5 minutes, or until cooked and no longer pink, using a wooden spoon to break up the sausage into crumbles.
Next, add the shallot, garlic, and chili flakes to the pan and cook for 2 minutes until softened. Once cooked, reduce the heat to low and set aside.
Bring a large pot of water to a boil over high heat. Once boiling, add the salt and pasta to the pot. Reduce the heat to medium and cook the pasta according to package directions until al dente. Stir the pasta occasionally to avoid sticking.
Two minutes before the pasta is fully cooked, add the kale tops to the pot. Cook for 2 minutes until they are tender and bright green.
Once the pasta and kale tops are cooked, use a slotted spoon to transfer the pasta and kale tops to the pan with the sausage. Alternatively, drain the pasta and kale tops into a colander in the sink.
Once all the pasta and kale tops have been added to the pan, increase the heat to medium, add the Parmesan cheese, and toss to combine.
Serve immediately with extra Parmesan cheese and chili flakes for garnish. Enjoy!