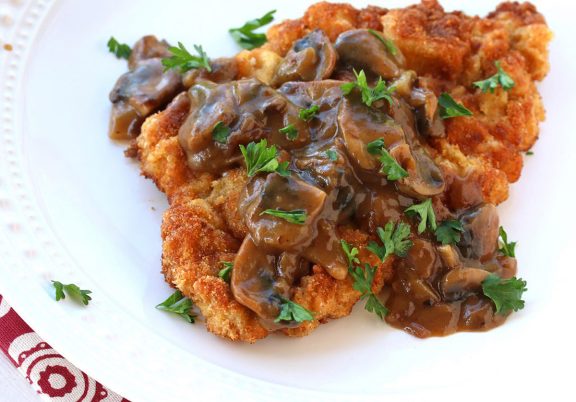 Ingredients:
For Jägerschnitzel Sauce:
1 tbsp butter
3 slices bacon, diced
1 onion, diced
1 lb mushrooms, sliced
2 tbsp tomato paste
1 cup beef stock
1 cup white wine
2 tbsp paprika
thyme, salt & pepper
2 tbsp parsley, chopped
1/4 cup sour cream
For the Schnitzel:
Boneless Pork Chops
Breadcrumbs
or Red Barn's Own Pork Loin Schnitzels
Directions:
Directions for Sauce:

In a skillet, brown bacon and onion in butter. Add mushrooms and fry until tender. Add tomato paste, water and white wine. Add paprika. Season with thyme, salt and pepper. Bring to boil, reduce heat adn simmer for 5 minutes until sauce thickens slightly. Add parsley and sour cream. Stir. Serve over Schnitzel.
Directions for Schnitzel:
Heat butter and oil over medium heat in skillet. Fry Red Barn's Pork Schnitzel until golden brown, about 3 minutes per side.
Serve immediately with sauce, garnished with lemon slices.