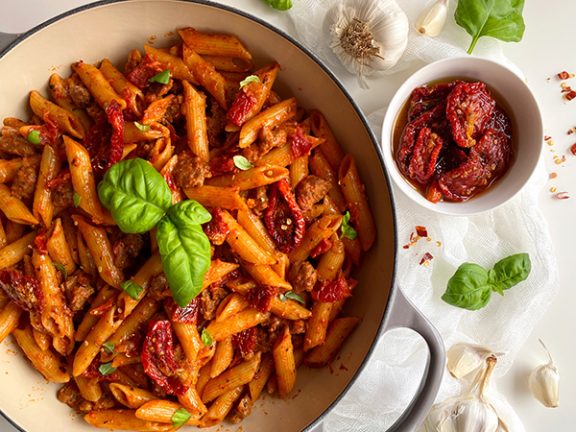 Serves: 4
Prep Time: 10 minutes | Cook Time: 20 minutes | Total Time: 30 minutes
Ingredients:
350 g penne rigate pasta
Water, for boiling
1 tablespoon salt
4 links Red Barn Market's Hot Italian Sausage, meat removed from casing
1 tablespoon olive oil
½ cup yellow onion, finely chopped
3 cloves garlic, finely chopped
1 cup sundried tomatoes, drained, cut into 1-centimeter cubes
2 teaspoons dried chili flakes
1 teaspoon ground black pepper
1 teaspoon dried oregano
¾ cup passata sauce (or canned crushed tomatoes)
⅓ cup whipping cream
½ cup grated Parmesan cheese
½ cup fresh basil leaves, for garnish
Directions:
Bring a large pot of water to a rolling boil over high heat. Add the salt to the pot followed by the pasta. Stir the pasta so that it does not stick together and reduce the heat to medium. Cook the pasta according to the package directions until the pasta is al dente, about 8-10 minutes.
While the pasta is cooking, add the olive oil to a large frying pan over medium-high heat. Remove the sausage from the casing and crumble the sausage into the pan. Fry the sausage until golden brown on all sides, about 5 minutes.
Add the onion and garlic to the pan and cook for 3-4 minutes until the onions and garlic have softened and are starting to turn a light golden brown.
Next, add the sundried tomatoes, dried chili flakes, black pepper and oregano to the pan and mix to combine. Cook for 1-2 minutes and then add the passata sauce and whipped cream. Mix again to combine and reduce the heat to medium-low.
Reserve 1 cup of pasta water from the pot and then drain the pasta. Add the drained pasta to the large pan and mix to combine.
Increase the heat to medium and add ½ cup of the pasta water. Mix the pasta together until the water is absorbed and then add the remaining ½ cup of pasta water. The pasta water will help to thicken the sauce and coat all the pasta. This process should take about 5 minutes and will finish cooking the pasta all the way through.
Once the rest of the water is absorbed, remove the pan from the heat, add the Parmesan cheese and mix to combine. Serve immediately with fresh basil as a garnish. Enjoy!
Recipe by: SEASON & SERVE (A FOOD BLOG FOR ALL SEASONS)
Follow Season & Serve on INSTAGRAM