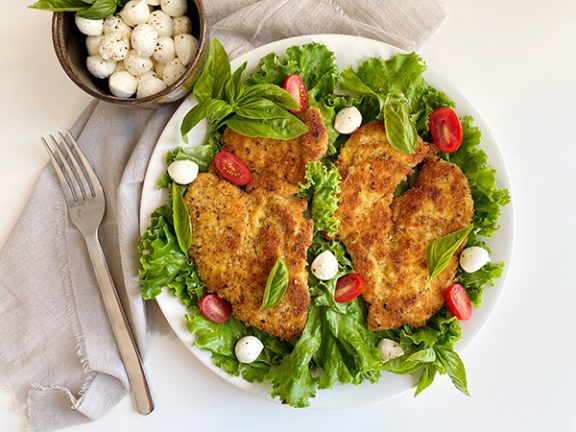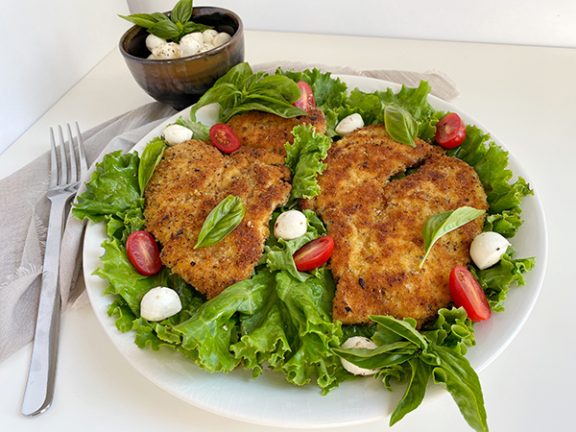 Serves: 4
Prep Time: 20 minutes | Cook Time: 20 minutes | Total Time:  40 minutes
Ingredients:
For the Breaded Chicken & Salad:
4 boneless, skinless, chicken breasts
1 cup all-purpose flour
2 large eggs
2 cups Italian breadcrumbs
½ teaspoon salt
½ teaspoon ground black pepper
1 head green leaf lettuce, chopped into 1-inch pieces
2 cups cherry tomatoes, halved
1 cup mini bocconcini cheese, drained
1 cup basil leaves
1/3 cup olive oil, for frying
For the Salad Dressing:
¼ cup olive oil
¼ cup balsamic vinegar
2 teaspoons granulated white sugar
¼ teaspoon salt
¼ teaspoon ground black pepper
Directions:
Begin by butterflying the chicken breasts. Use a sharp knife to cut the chicken breast in half horizontally, making sure to not cut all the way through to the other side. Open the chicken breast up like a book so that it lies flat. Repeat for all the chicken breasts.
Place the chicken breasts under a layer of plastic wrap. Use a meat mallet (or rolling pin) to pound the chicken breasts so that they are about ½ centimetre thick. Set aside.
Next prepare the breading station. Place the flour and breadcrumbs on two separate large plates. Season the flour with salt and pepper and mix to combine. Crack the eggs into a wide bowl and beat until combined.
To bread the chicken, begin by coating both sides of the chicken in the flour. Shake off any excess flour then transfer it to the egg mixture and coat it on both sides. Finally, transfer to the breadcrumbs and coat on both sides, pressing the breadcrumbs on so that they stick. Set the breaded chicken aside on a clean plate and repeat for the remaining chicken breasts.
To Cook the Breaded Chicken:
Heat a large non-stick frying pan over medium-high heat. Once hot, add half of the olive oil to the pan followed by 2 breaded chicken breasts. Fry the chicken for 4 minutes per side, or until the breadcrumbs have become golden brown.
Once cooked, remove the chicken breasts from the pan. Add the remaining olive oil and fry the last two chicken breasts. Let cool slightly before adding to the salad.
To Assemble the Salad:
Add all the salad dressing ingredients to a large bowl and mix to combine. Add the chopped lettuce, sliced cherry tomatoes and bocconcini to the bowl and toss everything to combine.
Divide the salad onto four plates and top each plate with a breaded chicken breast and some fresh basil leaves for garnish. Serve immediately and enjoy!
Recipe by: SEASON & SERVE (A FOOD BLOG FOR ALL SEASONS)
Follow Season & Serve on INSTAGRAM