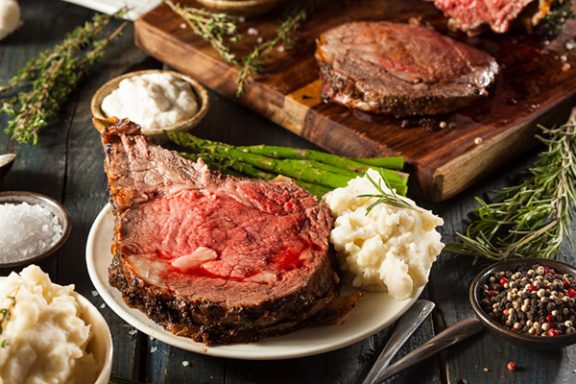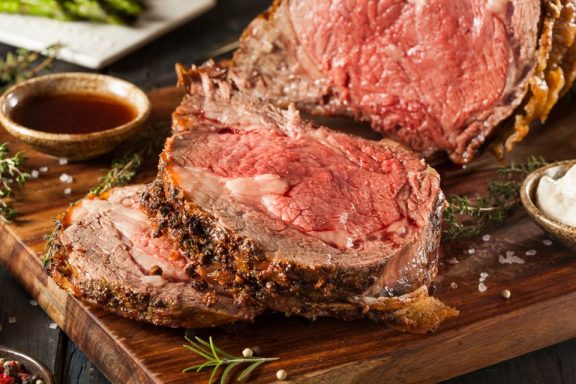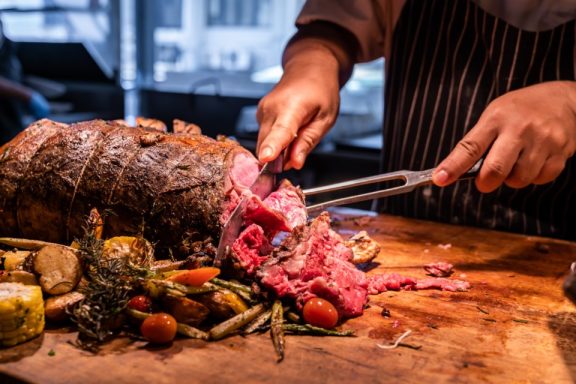 How to cook the perfect prime rib roast
– Times Colonist
According to Fireside Grill's culinary team, their Prime Rib Roast Recipe "is the only one you'll ever need."
Tim Petropoulos, Managing Partner of Fireside Grill, shares their restaurant's recipe and techniques so you can create a mouth-watering roast right at home.
Why Prime Rib Roast?
"It is the king of beef cuts. It's a beautifully marbled piece of meat," states Petropoulos. "Prime rib roast is also called a standing rib roast, as it's positioned on the rib bones in the roasting pan while it cooks."
However, it can be cooked bone-in or bone-out. "At Fireside, we use bone-out prime rib for better service," he continues. "If you're not sure which to use, consult and become friends with the butcher at your local Red Barn Market".
"You must start with the right meat"
"We're a bit old school here at the Fireside Grill and buy only AAA Alberta beef. There are many variations of beef so feel free to make your own choice, but always choose well-marbled as that's where the flavour comes from", Petropoulos says.
"For estimating how big a roast you'll need, I prefer a larger roast, so it doesn't overcook, and makes for lots of leftovers but a good rule of thumb is to account for about one pound per person".
Prepping the meat
"We start by trimming the excess fat from the beef. At Fireside Grill, we tie our roast before we rub it with spices, but at home, it's not usually necessary", Petropoulos says. "For the rub, we use one of our original Fireside Seasoning Recipes but any good seasoning salt like Hy's Seasoning Salt will do, or just plain salt and pepper. We also add Dijon mustard and dried rosemary from our restaurant gardens."
"Be very generous with seasoning and mustard as it adds to the flavour," he shares. "At the restaurant, we leave the rub on for 24 hours in the refrigerator, but you can do this right before cooking."
A crucial step to cooking the perfect prime rib roast is to let it sit on the counter for at least 4-5 hours before cooking so it reaches room temperature, about an hour per pound. "This assures the beef will be more tender and will cook evenly throughout," Petropoulos explains. "If it's the least bit cold in the middle when you put it in the oven, you could end up with a very rare roast, so getting it to room temperature is essential".
What's the right cooking temperature?
"For the perfect prime rib roast, inserting a digital probe thermometer into the center or thickest part of the roast before and during cooking is the best way to ensure the perfect doneness," claims Petropoulos.
He describes their method at Fireside: "We set the roast in a pan on a rack in a preheated oven at 500° F for 15 minutes to achieve browning on the outside of the roast, then reduce heat to 325-350° F for the duration of the cooking time, approximately 12-15 minutes per pound. This ensures the meat in the center doesn't get overcooked" he says.
"We cook our prime rib on the rarer side, or until the thermometer reads about 110° F. The center should be a vibrant pink, however, for those who can't tolerate pink, the ends are always well done, so there's the perfect slice for everyone," Petropoulos assures.
Determining when it's done
"After cooking, transfer the meat to a cutting board, loosely tent it with foil and let it sit for 20 minutes to allow the juices to seal back into the meat. If you don't let the meat rest long enough, you could end up with a chewy prime rib roast," warns Petropoulos.
"As the roast rests, the internal temperature will rise 5 – 10 degrees. After the resting period you want it to read: 115° F for a rare roast; 120° F for medium-rare; and 130° F for medium," he adds.
Slicing and serving
The Petropoulos way is to cut through the centre and then work your way to the ends and then serve. "Cut the meat across the grain. If you don't, the meat can be tough and chewy."
To finish, pair the meat with au jus or gravy, horseradish, mashed potatoes, Yorkshire Pudding, and your favourite vegetables, as suggested by Petropoulos.
Now enjoy that fantastic piece of beef or just come by Fireside Grill on a Sunday and let them cook for you!
Original Article: https://www.timescolonist.com/sponsored/how-to-cook-the-perfect-prime-rib-roast-5985713