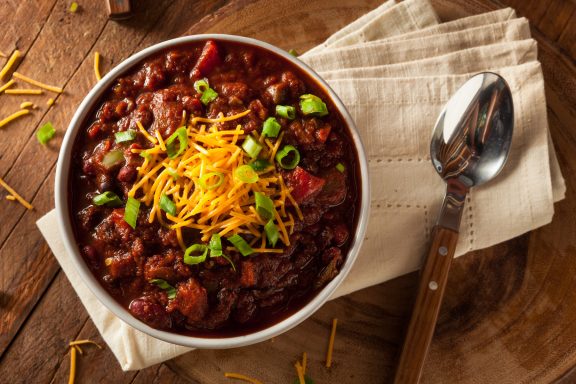 Servings: 10 | Prep Time: 10 min | Cooking Time: 3 hrs 30 min | Total Time: 3 hrs 40 min
Ingredients
2lb lean ground beef
1 large onion, diced
1 large green pepper, diced
3 garlic cloves, minced
2 tsp cumin powder
1 1/2 tbsp chili powder
1 tsp garlic powder
1 tsp dried oregano
1 1/2 tsp salt, or to taste
1/2 tsp black pepper
15 oz black beans, drained and rinsed
30 oz kidney beans, two 15 oz cans, drained and rinsed
30 oz diced tomatoes, with their juice
10 oz diced tomatoes and green chilies, with their juice
30 oz tomato sauce
Directions
Place a large skillet over medium-high heat and sautée beef until it releases fat (4-5 minutes), breaking it up with a spatula.
Add onion and green pepper to the skillet and sautée until tender (4-5 minutes). Add minced garlic and seasonings: cumin, chili powder, garlic powder, dried oregano, salt and pepper. Cook another 30 seconds stirring constantly. Transfer to a 6 Qt slow cooker.
Add remaining ingredients into the slow cooker: rinsed and drained beans, diced tomatoes with their juice, diced tomatoes and green chilies with juice and tomato sauce. Stir to combine and cook on high for 3-4 hours or on low for 6-8 hours. Season to taste if desired and top with sour cream, shredded cheddar & green onion.