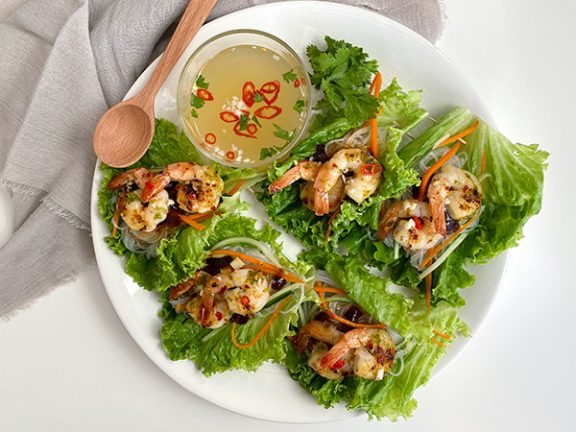 Grilled Shrimp Lettuce Cups
 Serves: 4
Prep Time: 30 minutes | Cook Time: 10 minutes | Total Time: 40 minutes
Ingredients:
For the Grilled Shrimp:
300 grams tiger shrimp, peeled, tails on (about 14-16 shrimp)
1 tablespoon avocado oil
1 tablespoon lime zest
2 teaspoons dried chili flakes
1 teaspoon granulated white sugar
2 cloves garlic, finely chopped
For the Nuoc Cham Dressing:
¼ cup warm water
½ cup lime juice, freshly squeezed
2 tablespoons granulated white sugar
1 tablespoon rice wine vinegar
1 tablespoon fish sauce
1 garlic clove, finely chopped
¼ teaspoon Thai birds eye chili pepper, finely chopped (optional)
For the Lettuce Cups:
1 head green leaf lettuce, leaves removed and washed
100 grams vermicelli noodles
Water, for boiling
1 English cucumber, julienned, cut into 3-inch strips
1 large carrot, julienned, cut into 3-inch strips
½ cup cilantro, roughly chopped
¼ cup hoisin sauce
Directions:
Begin by preparing the shrimp. Add the shrimp to a medium-sized bowl along with the avocado oil, lime zest, chili flakes, white sugar, and garlic. Mix everything to combine and place in the refrigerator to marinate for at least 20-30 minutes.
Next make the Nuoc Cham dressing. In a small bowl, combine the warm water, lime juice, white sugar, rice wine vinegar, fish sauce, garlic, and Thai birds eye chili pepper (if using). Mix everything to combine, ensuring to mix enough until the sugar is dissolved. Set aside for now.
Preheat the grill to 400 degrees F. Once hot, add the shrimp to the grill and cook for 2 minutes per side, or until the shrimp have turned opaque orange and have begun to curl slightly. Remove from the grill and set aside to cool.
Next, make the vermicelli noodles. Bring a small pot of water to a boil over high heat. Add the vermicelli noodles and cook for 4-5 minutes, or according to the package directions. Drain the noodles once cooked and rinse with cold water to cool them down.
To assemble the lettuce cups, add a handful of vermicelli noodles to each lettuce cup. Top with the julienned carrots and cucumber, followed by a teaspoon of hoisin sauce per lettuce cup, and 2-3 grilled shrimp.
Top each lettuce cup with a few teaspoons of nuoc cham dressing and some cilantro for garnish. Serve immediately and enjoy!
Recipe Notes:
You can pan-fry the shrimp instead of grilling them. Simply add the shrimp to a pan over medium-high heat with 2 teaspoons of avocado oil. Fry the shrimp for 2 minutes per side, or until they turn opaque orange and begin to curl slightly. Top the lettuce cups with the shrimp and enjoy!
You can make the Nuoc Cham dressing a day in advance. Keep refrigerated for up to one week.
Recipe by: SEASON & SERVE (A FOOD BLOG FOR ALL SEASONS)
Follow Season & Serve on INSTAGRAM