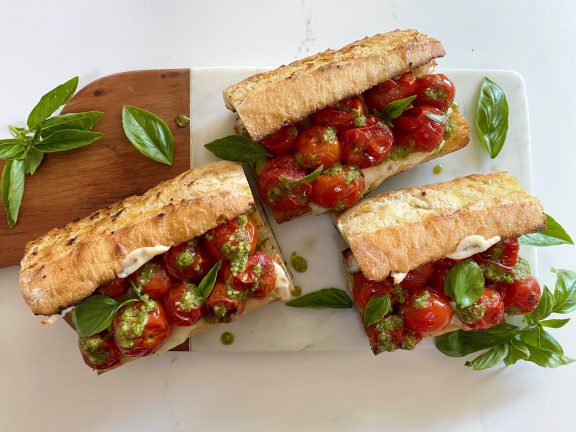 Serves: 4
Prep Time: 20 minutes  | Cook Time: 10 minutes  | Total Time: 30 minutes
Ingredients:
For the Basil Pesto:
2 cloves garlic, whole, peeled
1/3 cup pine nuts (or substitute with almonds)
2 cups fresh basil leaves, packed
½cup Parmesan cheese, grated
½ cup extra virgin olive oil
¼ teaspoon salt
¼ teaspoon ground black pepper
For the Grilled Tomatoes:
2 pints cherry tomatoes
2 tablespoons olive oil
½ teaspoon sea salt
1 teaspoon ground black pepper
4 tablespoons red wine vinegar
2 cups mozzarella, grated
For the Baguette:
1 baguette, sliced in half lengthwise and cut into quarters
1/3 cup olive oil
½ teaspoon sea salt
Directions:
Begin by preparing making the basil pesto. Add the garlic and pine nuts to a food processor and pulse until finely chopped. Next, add the basil leaves, Parmesan, salt, and pepper and pulse until the basil is finely chopped. Scrape down the sides of the food processor as needed.
With the food processor running, pour the olive oil through the spout of the food processor to emulsify the pesto. Once the pesto is smooth, remove from the food processor, cover, and set aside for later.