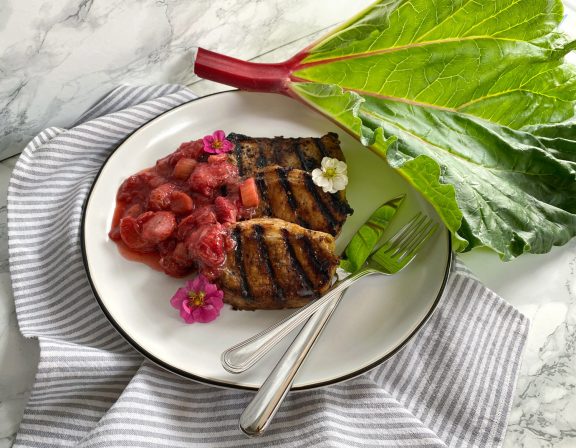 Serves: 4
Prep Time: 10 minutes | Cook Time: 30 minutes | Resting Time: 10 minutes | Total Time: 40 minutes
Ingredients:
For the Grilled Balsamic Pork Chops:
4 boneless pork chops, fat trimmed
¼ cup balsamic vinegar
1 tablespoon olive oil
2 cloves garlic, finely chopped
½ teaspoon sea salt
1 teaspoon ground black pepper
For the Strawberry-Rhubarb Compote:
1 pint strawberries (about 2 cups), stems removed and quartered
3 stalks rhubarb, cut into 1-cm pieces (about 3 cups)
½ cup water
2 ½ tablespoons granulated white sugar
1 tablespoon balsamic vinegar
Directions:
For the Grilled Balsamic Pork Chops:
Begin by marinading the pork chops. Combine the balsamic vinegar, olive oil, garlic, sea salt, and pepper together in a shallow baking dish.
Place the pork chops on top of the marinade and flip them over to ensure they are coated on both sides. Cover with plastic wrap and refrigerate for 30 minutes to allow the meat to marinade.
After 30 minutes, remove the pork chops from the fridge and preheat the barbeque to 400 degrees F.
Once hot, place the pork chops on the grill and cook for 5-6 minutes per side.
Once cooked, remove them from the grill and arrange on a serving platter. Top with pork chops with the Strawberry-Rhubarb Compote and serve immediately. Enjoy!
For the Strawberry-Rhubarb Compote:
Combine the sliced strawberries, rhubarb, water, and sugar in a small pot. Bring to a boil over high heat.
Once boiling, reduce the heat to medium and cook for 15 minutes, until the rhubarb and strawberries have softened, and the rhubarb is starting to break apart.
Remove from the heat and add the balsamic vinegar. Stir to combine and set aside to cool.
Recipe Notes:
Do not marinade the meat for longer than 30 minutes as the balsamic vinegar will make the meat tough.
Pork chops are fully cooked when a digital thermometer inserted into the center of the pork chop reads 145 degrees F.