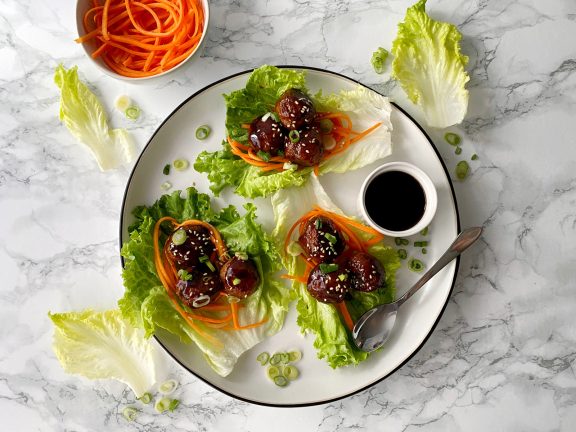 Serves: 4
Prep Time: 30 minutes | Cook Time: 20 minutes | Total Time: 50 minutes
Ingredients:
For the Meatballs:
350 grams ground pork
3 tablespoons yellow onion, grated (about ¼ of a medium onion)
2 cloves garlic, grated
½ teaspoon ginger, grated
1 tablespoon low-sodium soy sauce
½ teaspoon ground black pepper
¼ cup panko breadcrumbs
1 egg yolk
2 tablespoons olive oil
For the Sauce:
¼ cup hoisin sauce
1 tablespoon brown sugar
2 tablespoons low-sodium soy sauce
1 teaspoon sesame oil
¼ cup warm water
For the Pickled Carrots:
1 large carrot, julienned
1 cup white vinegar
4 tablespoons brown sugar
½ teaspoon sea salt
For the Wraps & Garnish:
1 green leaf lettuce, leaves separated
2 scallions, finely chopped
1 tablespoon white sesame seeds, for garnish
Directions:
Begin by making the meatballs. Place the ground pork in a large bowl and add the rest of the meatball ingredients (except the olive oil). Use your hands to mix the ingredients together until just combined. Do not over mix.
Roll 1 ½ to 2 tablespoons of the pork filling between your hands to make meatballs. The meatballs should be slightly smaller than a golf ball. Repeat until all the meatballs have been formed, then place in the refrigerator to chill for 20 minutes.
In the meantime, prepare the meatball sauce by mixing all the sauce ingredients together in a small bowl. Once combined, set aside.
Next, prepare the pickled carrots. Add the vinegar, brown sugar, and salt into a bowl and mix until the sugar has been dissolved. Add the carrots to the bowl and press them down so that they are submerged in the vinegar. Place in the refrigerator until ready to use.
Heat a large pan over medium-high heat. Once hot, add the olive oil to the pan and place the meatballs in the pan in a single layer. Cook the meatballs for 1-2 minutes per side, or until golden brown.
Once all the sides are browned, reduce the heat to medium-low and add the sauce. Toss the meatballs and sauce together to coat, then cover the pan with a lid. Let the meatballs cook for 6-8 minutes, tossing the meatballs every 2 minutes. Once coated in sauce and cooked through, remove from the heat.
To assemble the wraps, place a handful of pickled carrots on a lettuce leaf followed by 3 meatballs. Garnish the meatballs with a sprinkling of sesame seeds and chopped scallions. Continue this process until all the lettuce wraps are made.
Pour the remaining sauce into a small bowl and serve with the lettuce wraps. Add extra sauce as needed and enjoy!
Recipe Notes:
If you do not eat pork, you can substitute it with ground beef or chicken.
You can prepare a big batch of these pickled carrots in advance. They will store in the refrigerator for up to 7 days.